"Falun Gong is great, it is a very good practice. It teaches people to be kind, and brings people good health." Mr. Chang said, "We should widely promote it. The more people practice it, the better."
November 28, 2013 | By Minghui correspondents Sun Bo and Su Rong in Kaohsiung, Taiwan
(Minghui.org) The annual Milkfish Cultural Festival was held in

Nanliao

Fishing Harbor in the Mituo District of Kaohsiung City, Taiwan on November 2-3, 2013. The Divine Land Marching Band and Waist Drum Troupe, composed entirely of Falun Gong practitioners, were invited to perform

in

the festival's opening ceremony.
This was the eighth year that local Falun Gong practitioners were invited to participate in the celebration. As part of the festival celebration, they paraded along the streets in the Tzukuan District, demonstrated the Falun Gong exercises, and performed stirring music, letting the local people know that "Falun Dafa is good."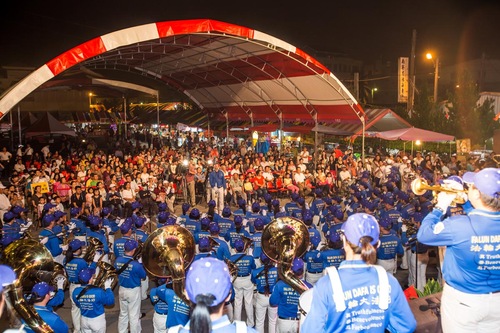 The Divine Land Marching Band performs at the opening ceremony of the Milkfish Cultural Festival
Falun Dafa Waist Drummers perform at Nanliao Fishing Harbor in Mituo District, kicking off the Milkfish Cultural Festival
Later in the festival, the practitioners marched along the bustling streets, passed by a popular fish market, and performed on stage in front of the fishermen's association. Wherever they went, they were greeted with warm applause. Many people were happy to take informational flyers from the practitioners and many took photos and videos with their cell phones or cameras.
People take photos or videos wherever Falun Gong practitioners go
District Director Praises Falun Gong Principles During a Radio Interview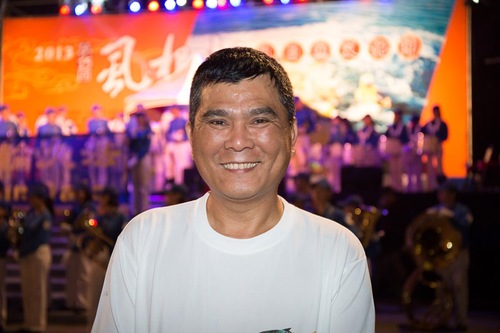 Mituo

District Director Chang Wen-

shan

thanks Falun Gong for bringing peace and prosperity to society
Mr. Chang Wen-

shan

, head of the Mituo District, praised Falun Gong during an interview with the Police Broadcasting Service (PBS) in Kaohsiung, as he told listeners about the celebrations of the rich harvest of

milkfish

. He also told the listeners that local officials had made a point to invite the popular Divine Land Marching Band to perform at the opening ceremony. He believed this is why many people attended the ceremony.
"Falun Gong is great, it is a very good practice. It teaches people to be kind, and brings people good health." Mr. Chang said, "We should widely promote it. The more people practice it, the better."
Mr. Chang is also impressed by Falun Gong's principles of Truthfulness, Compassion, and Forbearance. He said that the persecution by the Chinese Communist regime is against heavenly principles. He believes that the Chinese regime will be punished by heaven, and the persecution won't last much longer.
Chairman of Fishermen's Association: "Falun Gong Doesn't Seek Anything, It Brings Beauty and Peace to Society"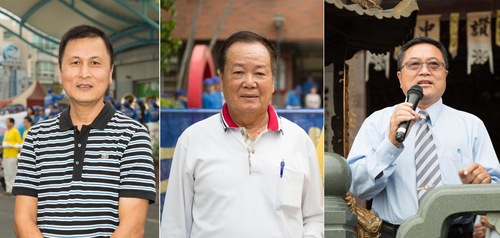 Ke

-

zi

-

liao

Fishermen's Association Chairman Chang (left), Tzuyi Village Chief Chen (Central), Chikan Village Chi Tzu Temple Director Tsai (Right)
Chairman Chang of the Ke-

zi

-

liao

Fishermen's Association thanked Falun Gong practitioners for accepting their invitation to perform for the local people. He said that the practitioners bring the community wonderful and peaceful messages, and their uplifting performances play a positive role in society. He said, "I support Falun Gong wholeheartedly!"
Tzuyi

Village Chief Chen expressed his appreciation and gratitude to Falun Gong practitioners for their contribution to the community. He said that he knows practitioners are kind and do things sincerely. He added that the more such kind-hearted people there are, the more contribution will they make to society. He feels that every country should embrace and promote Falun Gong.
Mr. Chen said that he learned about the persecution of Falun Gong in China from newspaper reports. He said he once asked the head of the Chinese Communist Party in Dalian City years ago, "How can you harvest organs from living people?" The Party chief sneered but did not answer. "Such things should be condemned and stopped," Mr. Chen said.
Chikan

Village head Mr. Tsai said that he respects Falun Gong, and knows that it's widely practiced and welcomed by people in many countries. He said he recently learned that the Chinese Communist regime is so inhumane it removes organs from living Falun Gong practitioners. "Everyone should stand up and condemn such atrocities," he said.