After the Jiang regime launched the persecution of Falun Gong in July 1999, everyone was forced to express their stances to "pass the test." Falun Gong practitioners have suffered all kinds of persecution. Here is some of what I have suffered during the past 14 years.
April 09, 2013 | By Zhang Shengqi
(Minghui.org) My name is Zhang Shengqi. I am 45 years old and come from Laiyang, Shandong Province. I was a master sergeant in an air division of the navy. Because I practiced Falun Gong, I was confined, forced to transfer to civilian work, and forced to leave my home. I was arrested, tortured, sent to forced labor camps and forced to undergo brainwashing. My property was confiscated. I was not allowed to leave the country.
I started to practice Falun Gong in the spring of 1997. Dozens of people in our division practiced Falun Gong at that time. Everyone followed the principles of Truthfulness-Compassion-Forbearance, got rid of bad habits, and diligently worked to behave as a very good person. All of the officers and soldiers that I knew highly praised Falun Gong. They said that the country would be at peace if everyone practiced Falun Gong, valued morality and showed compassion. There was a great flood in the south of China in 1998. The army called for donations in proportion to income. Several Falun Gong practitioners among us voluntarily donated a few times more.
After the Jiang regime launched the persecution of Falun Gong in July 1999, everyone was forced to express their stances to "pass the test." Falun Gong practitioners have suffered all kinds of persecution. Here is some of what I have suffered during the past 14 years.
1. Detained and Forced to Transfer to Civilian Work
On April 25, 1999, the Zhongnanhai peaceful appeal astounded both China and foreign countries. The peaceful assembly held by Falun Gong practitioners received acclaim from all over the world. Afterward, the atmosphere in our division became tense. All kinds of officials had conversations with us. When we went out, someone would "accompany" us.
On July 18, 1999, higher authorities issued an order for me to be transferred. I was recalled to regimental headquarters and detained there for about one month. At that time, nine Falun Gong practitioners were detained there. Every practitioner was watched by nine people. They forced us to watch anti-Falun Gong propaganda "news" every day. The normal operations of the unit was disrupted. Later, headquarters forced us to write so-called "letters of exposure and criticism" (denouncing Falun Gong), read the letters in a conference and released them to the public.
My degree certificate
Then the military suspended our benefits and didn't allow us to take on any important positions or work. In May 2000, they announced that eight other practitioners and I were being transferred to civilian work. The eight practitioners included Cheng Xinlin from Hebei Province (Lieutenant), Jin Wenyong (Specialist Sergeant), Jiang Quanfu from Shandong Province (Captain), Zhou Qingfeng (Lieutenant), Zhang Guofeng (Staff Sergeant), Wang Haichao (Lieutenant), Xu Xuelai from Jiangsu Province (Master Sergeant) and Jiang Zhongyu from Hunan Province (Lieutenant).
I was detained in a forced labor camp for three years. Wang Haichao and Cheng Xinlin were detained in forced labor camps twice and each term was three years. Chen Xinlin's wife was also detained in a forced labor camp. He and his wife are still out of work and have a very difficult life. Another military man's wife, Wang Guizhi, is an outstanding teacher at Associated High School in Laiyang. Because she practices Falun Gong, her husband, who was an excellent pilot, was grounded and forced to transfer to civilian work.
2. Homeless and Destitute
I was forced to become homeless and destitute in October 2000 because of local officials' harassment and persecution.
At that time, the whole country was in a state of terror and the police went everywhere to arrest Falun Gong practitioners. We met many practitioners who were forced to become homeless. The persecution they suffered was terrible. After family members of my third sister, who all practiced Falun Gong, went to Beijing to appeal for Falun Gong, the local police tied them to utility poles and poured cold water on them in the winter. The police also took away all of their grain, livestock, equipment, and other valuables.
I saw a particularly memorable incident at Tiananmen Square. A family of more than ten went there to appeal for Falun Gong. A group of plainclothes police beat them and knocked them down to the ground. Only an elderly lady in her 80s still sat in a wheelchair and went around in circles. Several years later, the scene of that frightened lady in a wheelchair is still vivid in my mind.
I was arrested by Wei Haibo and other local Laiyang policemen in June 2001. They deliberately handcuffed me so tightly that the handcuffs cut into my skin and my wrists were injured. The police directly sent me to the detention center. I was tied to a death bed and tortured for about 20 days. During this period, Wei Haibo and other policemen interrogated me with torture. They shocked my abdomen and face with electric batons and slapped my face with leather shoes. They tried to force feed me.
My hair turned gray after three years of persecution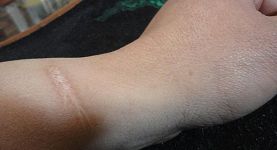 Scars on my wrist
In July 2001, without due process, I was sentenced to three years in a forced labor camp. Wei Haobo and other policemen sent me to the Wangcun Forced Labor Camp. I did not cooperate during the physical examination, so Wei Haibo dragged me to a vehicle and brutally beat me. At that time, I had been detained and tortured for more than one month. I was very weak and had no strength.
4. Brutal Persecution in Forced Labor Camp
In the forced labor camp, I personally experienced and witnessed all kinds of brutal torture:
a. Sleep deprivation. The camp did not allow Falun Gong practitioners to sleep. Several assistants kept watch. If you closed your eyes, they would poke you and wake you up. Sometimes they made a bullhorn from paper and shouted into your ears. They abused Falun Dafa with obscene words.
b. Standing punishment. Practitioners were forced to face a wall and stand at attention. Every day, the practitioners were only allowed to sleep for two hours.
c. Sitting on a small stool. The practitioners were forced to sit on a small wooden stool for more than 20 hours per day if they did not "transform." Eventually, the practitioners' skin festered.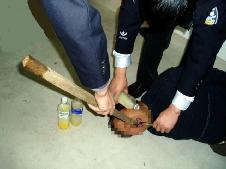 Torture re-enactment: Forced Feeding
d. Forced feeding. The camp forced fed those practitioners who went on hunger strikes. They pried open the practitioners' mouths with pliers. Some practitioners' teeth were knocked out as a result and blood oozed out. Wang Shaoqing from Dezhou was forced fed many times.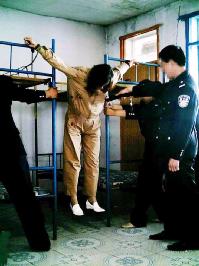 Torture re-enactment: Hanging and handcuffing from two iron beds
e. Big hang up. The hands were hung and handcuffed to two iron beds. The feet were handcuffed on the bed legs. The hands and feet were stretched out. Mr. Li Deshan from Dezhou was tortured to death by this torture.
f. Forced labor. We had to work 15 to 18 hours per day. We worked in a toxic environment. We were not allowed to sleep if we did not finish the job. Mr. Li Dianzhong from Jining died from extreme fatigue.
g. Brutally brainwashed. I was forced to write an "exposure and criticism." of Falun Gong. We were forced to watch programs defaming Falun Gong and Falun Gong practitioners.
h. Deprivation of visitation rights and communication. The family members of those Falun Gong practitioners who did not transform were not allowed to visit the practitioners. The camp denied them any form of communication.
5. Harassed and Property Confiscated
I was released from the forced labor camp at the end of 2003. The local

610 office

called me to the brainwashing center and took 500 yuan from me for a "boarding fee" while I was detained. The police and guards used practitioners' confiscated property to add to their income. They often arrested kindhearted elderly people and forced their children to pay 2,000-3,000 yuan as a boarding fee. They spent the money for their own food, alcohol, visiting prostitutes and gambling. Yu Yuejing, Sun Honghong and Wang Lei engaged in this persecution.
In May 2010, Ma Shuguang, Liang Bing and He Xiao from the 610 Office of Laiyang Domestic Security Division suspected my driver, Gao Jianting, of taking care of Liu Zhimei, a student at Tsinghua University, who was disabled from previous torture. They arrested Gao and detained him for one week. My car was held for more than two months. My car was not returned until I hired an attorney and sued. The direct economic loss to me was about 50,000 yuan.
6. Denial of Foreign Travel
In December 2011, I went to apply for a passport for business travel. I was told that they would not issue passports to Falun Gong practitioners. If a practitioner really needed a passport, he had to get permission from the domestic security division and the 610 office. I went to find the person in charge, but I was brutally beaten by Ma Shuguang and Liang Bing. On every occasion that was deemed "politically sensitive", the police dispatched people to harass me.
The above is some of what I have suffered during the past decade. Herein I call on all kindhearted people, people with a sense of justice, and human rights organizations in all countries to offer your help to resist the persecution and end the trampling of human rights in China.
Relevant departments and persons in charge:
Air Division of the Navy
Yu Zhanji from Weifang was former a troop commissar. He died after being transferred to civilian work.
Pu Zhaodong from Penglai was the former director of the Political Department. He is a troop commissar in Laishan, Yantai.
Qi Weiyue from Jiangsu Province, former political director. He is director of a troop political department.
Zhang Sheng from Hunan Province, who was a former instructor, has been transferred to civilian work.
Lu Yizhan, former section chief of military affairs. He works at Laiyang Environment Protection Bureau.
Li Ying from Wei County, Hebei Province was a regime commissar. He has been transferred to civilian work
Yin Yanzhong from Jiaonan, Qingdao, Shandong Province was former political director. He has been transferred to civilian work.
Xu Xiangdong from Jiangsu Province was former deputy political director. He has been transferred to civilian work.
Yu Yuejing was a former director of the 610 Office. He has received retribution and died.
Guo Wenxing received retribution and died.
Song Qinzhong received retribution and died.
Wei Haibo is currently chief of the Gaogezhuang Police Station in Laiyang.
Wang Lei, Ma Shuguang, He Xiao and Liang Bin are still in the 610 Office.
Shandong Second Forced Labor Camp
Guards in the 8

th

Division: Liu Jichao, Sun Fengjun and Peng Xubiao
Guards in the 7

th

Division: Luo Guangrong, Zhang Qin and Wang Baohua