[Grant Bayldon, Executive Director at Amnesty International]
"There are many man people in similar situations to Ms. Chen's, and we need to keep working on her case but we also need the Chinese Communist government to respect human rights, to stop detaining, to stop torturing people expressing their religious beliefs."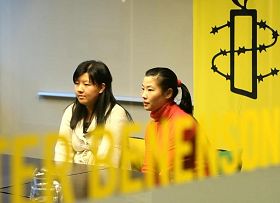 Ms. Chen's daughters, Zhaoyu Jin and Zhaoheng Jin
A mother of two, dying in a Chinese prison. Chen Zhenping has been incarcerated since 2008 because of her beliefs. Since then, there's been a global effort to help free her.
The director of Amnesty International in New Zealand told NTD this week that they have brought up Chen's case with the New Zealand government.
[Grant Bayldon, Executive Director at Amnesty International]
"We have written to New Zealand Ministry of Foreign Affairs and Trade and raise the issue. We've had confirmation back that he's received the letter and we had concern expressed. It's very difficult to know what, if anything, the New Zealand government is doing on this, but we will keep raising it."
Chen Zhenping is a Falun Gong practitioner. The meditation practice has been severely persecuted in China since 1999. Chen was arrested before the 2008 Beijing Olympics, as part of a nationwide security sweep by the Chinese regime.
In February, Chen's daughter told NTD her mother was denied family visits for more than 40 months. US-based Clearwisdom website also reported Chen has been tortured to the point where she cannot stand by herself, and is on the brink of insanity.
Chen's two daughters have escaped China, and are currently living Finland. Amnesty International has been helping them to appeal for their mother. The European Commission for Human Rights has also taken action.
[Grant Bayldon, Executive Director at Amnesty International]
"The more we raise an issue, the more likely it is that there will be release or at least improvement in conditions and conditions are very important. We're calling for visits, medical visits, family visits, legal visits to Ms. Chen because we know those things can help protect her."
But the efforts should not stop there.
[Grant Bayldon, Executive Director at Amnesty International]
"There are many man people in similar situations to Ms. Chen's, and we need to keep working on her case but we also need the Chinese government to respect human rights, to stop detaining, to stop torturing people expressing their religious beliefs."
NTD News, Auckland, New Zealand.