March 23, 2013 | By a Minghui correspondent from Hebei Province, China
(Minghui.org)
In June 2012, more than 700 people from Zhengding County, Shijiazhuang City, Hebei Province signed and put their fingerprints on a petition to rescue the illegally imprisoned Falun Gong practitioner Mr. Li Lankui. The petition attracted much attention from the media both inside and outside China. As a result, the authorities responded with an even more intense and frenzied round of persecution.
Despite the increased persecution and pressure, local citizens have continued to collect signatures, gathering 10,955 to date.
Officials Respond to the Petition with Intensified Persecution
The central

610 Office

, along with the local police and Domestic Security Divisions, have abducted and harassed greater numbers of Falun Gong practitioners, as well as the people who have signed the petitions.
Nevertheless, four more rounds of petitions were carried out in Zhengding County, where over 3,000 additional fingerprints were collected in the effort to rescue Mr. Li Lankui. The petitioners also began to call for the release of some other practitioners, including Mr. Jia Zhijiang. Mr. Jia is currently detained at the Zhengding County Detention Center.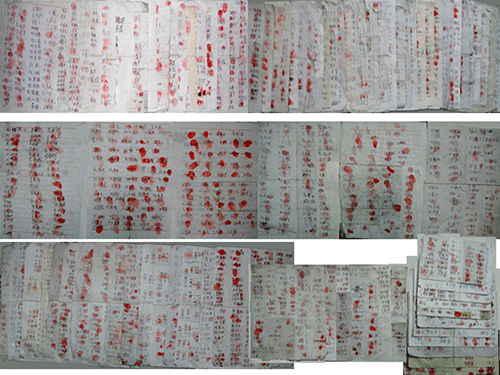 Petitions calling for release of detained Falun Gong practitioners have gathered
10,955 signatures, along with fingerprints, in Zhengding County to date.
Mr. Jia Zhijiang Tortured in Detention
Mr. Jia's family hired a defense lawyer to rescue him. The lawyer managed to see Mr. Jia for the first time at the Zhengding County Detention Center in early November 2012.
During the visit, he learned that Mr. Jia had been taken to the Shijiazhuang Police Training Center, where he was tortured continuously for 17 days. The forms of torture included:
1. Sleep deprivation: Mr. Jia's head was covered with a black hood. Each time he yawned, he was beaten up by the police. He was tortured this way for 10 consecutive days.

2. Battery: The police beat Mr. Jia on the head, stuffed his mouth with a rope, stomped on his toes until the toenails peeled off, pulled his beard and smothered him with smoke. They also hit the soles of his feet, his back and hands with wooden sticks, and slapped him hard on the face.

3. Shackled on an iron chair: Mr. Jia was put in shackles and forced to sit on an "iron chair" (a torture instrument). He was tortured this way from August 13 to August 29, 2012. His feet became so swollen that he could not walk. He was kept chained to the "iron chair" throughout the 17 days, except when he had to go to the toilet.
Family Calls for Investigation of Illegal Conduct by Police
Mr. Jia's family and the lawyer visited inspection departments at various levels to complain about the illegal conduct of the police.
On November 16, 2012, the lawyer lodged a complaint with the

Procuratorate

of Zhengding County, requesting the office to investigate the criminal conduct of policeman Gao Guo and others from the Zhengding Police Station who had participated in torturing Mr Jia. The complaint was also sent to other relevant departments in Hebei Province.
When the lawyer subsequently went to the Dereliction of Duty Charges Bureau to check on the case's progress, section head Zheng Junyong, who was in charge of Mr. Jia's case, told him that they did not have time to investigate this matter due to a staff shortage.
Later, Mr Jia's lawyer went back to the Procuratorate of Zhengding County and met with the deputy procurator. The lawyer told him about the complaint and the details of the police officers' unlawful conduct. The deputy procurator read the complaint letter and said he had received it earlier. He also said that Falun Gong practitioners write to him, call him on the phone and send him messages every day. However he did not have any intention of looking into the complaint regarding the officer's vicious conduct, and acted as if such conduct was quite normal.
In late January 2013, the lawyer visited Mr. Jia at the detention center again. He learned that Mr. Jia was being subjected to slave labor. He was forced to pack disposable chopsticks. If he slowed down even a little, the criminal inmates, instigated by the detention center's personnel, would burn his fingernails with cigarette butts. His fingernails turned black as a result.
Prior to the Chinese New Year, the Procuratorate of Zhengding County returned Mr. Jia's case to Zhengding County Police Station for "supplementary investigation."
Authorities Refuse to Take Responsibility for Injury and Abuse
The lawyer visited Mr. Jia in the detention center again on March 6, 2013. He found that Mr. Jia was injured and learned that he had been beaten by criminal inmates on February 21. He also discovered that Mr. Jia was only allowed to buy two plates of food with the money his family sent him every month to cover living expenses; the rest of the money was stolen and spent by the criminal inmates.
Mr. Jia's lawyer complained to the detention center's Inspection Office, which is run by the Procuratorate, and requested that Mr. Jia be taken to the hospital for a checkup.
Dai Chuanchuan, head of the office, claimed that he had watched the surveillance videos that entire day and had not seen anyone being beaten. He then claimed that a doctor had already checked Mr. Jia and he was fine.
Mr. Jia's family members then went to see Dai Chuanchuan again and asked if Mr. Jia had been taken to hospital for a checkup after the beating. They asked how the detention center intended to handle the situation. Dai replied: "Who will pay for this checkup? We only investigate and assign responsibility if someone is beaten to death."
The family is very worried about Mr. Jia's situation.
Background: Initial Petition with 700 Fingerprints
In June 2012, Mr. Terry Branstad, governor of the state of Iowa in the United States, visited Zhengding County. The county 610 Office abducted Mr. Li Lankui, a local Falun Gong practitioner, in preparation for the visit.
The local citizens were furious over his illegal arrest and signed and put their fingerprints on a petition to call for Mr. Li's release. Mr. Li is currently detained in a forced labor camp. He has been sentenced to one year and three months of forced labor.
Since July 22, 2012, the central Political and Legal Affairs Committee has led efforts to step up the persecution of local Falun Gong practitioners, as well as those involved with the petition. The 610 Office of Hebei Province, police and Domestic Security Division have been harassing people in Zhengding County, Shijiazhuang City area, and Gaocheng City.
To date, 16 Falun Gong practitioners and their family members have been abducted. Their heads were covered with black hoods, and they were taken to a secret location within the Shijiazhuang First Detention Center.
There, police deployed interrogation by torture in an attempt to extract confessions. The detained practitioners and their family members were chained to "iron chairs" for long periods of time, beaten and shocked with high-voltage electric batons.
On September 25, 2012, Zhengding County Police Station colluded with Zhengding County Procuratorate to unlawfully arrest Mr. Jia Zhijiang, Ms. Gao Suzhen and Mr. Zhang Tianqi (Ms. Gao's husband); they are still detained.
Zhang Yue, the party secretary of Hebei Political and Legal Affairs Committee and the head of Hebei Police Department, and Li Jianfang, head of the Hebei 610 Office, are directly responsible for the mass arrests in relation to the original petition with 700 fingerprints.
Agencies and Individuals Involved in the Persecution
Zhengding County Police Station: +86-311-88018864, +86-311-8021717, +86-311-88021274
Gao Guo, deputy head of Zhengding County Police Station: +86-13930403939
Zhengding County Detention Center: +86-311-88786320, +86-311-88787160
Head of Zhengding County Detention Center: +86-311-88789162
Zhengding County Procuratorate: +86-88022026, +86-311-88020220 (Office), +86-311-88012026
Zheng Junyong, section head of the Bureau of Anti-Dereliction of Duty: +86-13930111889
For additional parties involved in the persecution, please refer to the original Chinese article.