(Minghui.org)
Falun Gong practitioners, during the pleasant Russian summer, participated in and organized a number of community activities to introduce Falun Gong, a practice based on the principles of Truthfulness-Compassion-Forbearance, and to raise people's awareness about the persecution that has been going on for 13 years in China.
Practitioners in Russia demonstrate the exercises at a community event in Nizhny Novgorod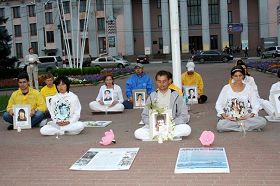 Practitioners hold candlelight vigil in a park in Nizhny Novgorod
During late July and early August 2012, practitioners organized the "The Art of Zhen, Shan, Ren (Truthfulness-Compassion-Forbearance) International Exhibition" at the Cultural Exhibition Center in the Nizhny Novgorod downtown area for a period of two weeks. At the same time they performed dances and songs composed by Falun Gong practitioners in the exhibition hall, which won applause applause. In the evening practitioners held a candlelight vigil in Central Park to mourn the fellow practitioners who have lost their lives during the persecution by the Chinese Communist Party (CCP).
Falun Gong practitioners also participated in a personal creative music festival held on the banks of the Volga River. Children attending summer camps from nearby schools loved the paper lotus flower origami activities organized by Falun Gong practitioners. While learning to fold the lotus flowers, they carefully listened to the facts about Falun Gong. Practitioners' singing and dancing conveyed the beauty of Falun Gong to the festival goers.
Practitioners participate in activities in Eagle City
Falun Gong practitioners participated in the city festival of Eagle City on August 5. The entire city center was packed with people. Practitioners dressed in golden exercise suits demonstrated the exercises and showcased dances in the park, leaving people with precious memories.
Practitioners participate in a parade held in Kostroma
Practitioners give waist drum performance in Kostroma's Central Park
Practitioners teach the exercises free of charge in Kostroma's Central Park
Situated on the Volga River banks, the bustling port city of Kostroma celebrated its 860th anniversary on August 11. The city festival started with a grand parade along the main streets, from Soviet Street to Susanin Square. Several thousand people attended the event. Falun Gong practitioners took part in the event with a colorful formation, starting with celestial maidens dressed in beautiful costumes, and followed by a majestic heavenly dragon and lions, and finally a waist drum team. For this small European town the Falun Gong contingent full of oriental flavor was particularly impressive. The appearance of Falun Gong practitioners immediately attracted a crowd of onlookers to gather, watch, and marvel. The waist drum team sang "Falun Dafa is good" along the way to the drum beats. The drums resonated powerfully.
On August 12, practitioners held activities in the park at the center of Kostroma, starting with bursts of drums and followed by dance performances, including "Falun Dafa is good," and singing. The lion dance and dragon dance were very popular. The demonstration of five exercises attracted people to learn about Falun Gong.