"My father Yu Zonghai has benefited from practicing Falun Gong. When I visited him in prison, he was covered with wounds, because the policemen often ordered the criminals to beat him. They had knocked out most of his teeth and had broken his legs. He is almost blind due to the torture. He told me that the police hit his chest with electric batons, which caused breathing difficulties. He is very weak due to the torture, but the police still force him to do hard labor."
"My parents are being tortured every day. Their lives are threatened. I ask everyone with a sense of justice to help."
March 04, 2013 | By a Minghui correspondent in Heilongjiang Province, China
(Minghui.org)
Mr. Yu Zonghai
was a creative designer at Mudanjiang City Library, Heilongjiang Province, China, who once won the "Employee of the Year" award. He was arrested in 2001 for refusing to renounce Falun Gong. After being severely tortured in police custody, he was sentenced to 15 years in prison without a trial. While incarcerated in Mudanjiang Prison, his left eye was injured while doing slave labor. His tear duct was permanently torn. He began to face a new round of torture in 2009 when the prison was ordered to force Falun Gong practitioners to renounce Falun Gong any way they could. They poured ice water over him in the middle of winter in northeastern China. They beat him and broke his ribs and leg. He didn't get his leg set and is now crippled. The beatings and shocks from electric batons on his chest caused him to have a heart problem that he did not have before. He had to do hard labor despite his poor health and injuries.
Mr. Yu's wife, Wang Meihong, used to be a senior engineer at the local Geological Survey in China. She was arrested in October 2003 and sentenced to 11 years in prison. She is currently incarcerated in Harbin Women's Prison.
Mr. Yu's older sister has fled overseas. She has been calling for help to rescue Mr. Yu and Ms. Wang.
Mr. Yu's father was devastated by the fact that his children were being persecuted so terribly and passed away.
Facts of the Persecution of Mr. Yu Zonghai
Mr. Yu Zonghai was a painter at the Mudanjiang City Library. He specialized in creative design, was a model worker, and a key employee. Before learning Falun Gong, he was always tired from working long hours and developed femoral head necrosis [blood supply to the femoral head is compromised and results in destruction of bone marrow]. He sought treatment everywhere, but to no avail.
After practicing Falun Gong and attending Master Li Hongzhi's Falun Gong lectures in Dalian in 1994, he was cured. After the class, he could carry a 220-pound sack of rice up four flights of stairs. This amazed many people, and many of his family members, colleagues, and cadres from his workplace also began to learn Falun Gong. After learning Falun Gong, Mr. Yu developed a very positive outlook on life.
He not only became healthy but also a better person. In addition, his soul was purified by the practice of Falun Gong, and he was able to create artworks of a greater calibre. He demonstrated incredible talent and technique in his Chinese calligraphy and paintings. A Chinese calligraphy master was astonished when he saw a couplet Mr. Yu wrote for the library. The calligraphy master spent a long time standing before the couplet and was in awe of such talent in Mudanjiang City!
The Chinese Communist Party (CCP) began to persecute Falun Gong on July 20, 1999. But Mr. Yu Zonghai and local Falun Gong volunteer assistants were arrested for practicing Falun Gong two days before, on July 18. Mr. Yu was then arrested again on November 12, 2001, for

clarifying the truth

about Falun Gong to people. Gonghe Police Station of Xi'an Branch of the Public Security Bureau (PSB) in Mudanjiang City started interrogating and torturing Mr. Yu and ten other practitioners that they had arrested that day in order to find more practitioners in the area. When they could not get any information, the police escalated the torture. Mr. Yu was brutally tortured. They poured spicy mustard oil into his mouth and nose.
Mr. Yu was then sentenced to 15 years in Mudanjiang Prison. In October 2004, a guard secretly took Mr. Yu's money that his family had sent him. When Mr. Yu inquired about the money, the guard instigated prison inmates to beat him.
At the end of August 2006, Mr. Yu's left eye was injured and the tear duct torn. The prison hospital was not equipped to treat him, and told him to seek treatment in another hospital. Guards in Division 6 demanded money from his family for treatment in an outside hospital.
Mr. Yu's wife and younger sister are detained in Harbin City Women's Prison for practicing Falun Gong. Ms. Wang Meihong, Mr. Yu's wife, was sentenced to an 11-year prison term. Therefore, his family was not available and had no money. The guard said, "If his family doesn't bring the money, Mr. Yu might as well go blind for all I care." Mr. Yu's younger brother was able to borrow some money, which was just enough for an eye test at Mudanjiang Red Flag Hospital. If delayed, it could have cost Mr. Yu his eye without such surgery. He did not lose his vision, but he now suffers from a teary left eye and will for the rest of his life.
During his incarceration, guards forced Mr. Yu to produce art works and print pictures of tigers, so that the prison could sell them for profit.
Before the 2008 Beijing Olympic Games, Mudanjiang Prison Division No. 6 searched all the practitioners many times, including Mr. Yu. He was tortured by guards Ge Hua and Wang Hui and inmate Xie Shide.
In 2009,

610 Office

director Lu Xianming from Mudanjiang Prison went to Changsha for a 610 Conference. Upon his return, he intensified the persecution of practitioners in the prison in order to increase the rate of "

transformations

." He resorted to all methods of torture and insisted on a 100 percent "transformation" rate.
Under orders from the prison authorities, three to four inmates were assigned to monitor and mistreat each practitioner in an attempt to force them to stop practicing Falun Gong. Practitioners were beaten, deprived of sleep, force-fed with highly concentrated saline solution and deprived of water afterward, stripped naked and drenched in cold water, exposed to frigid temperatures for prolonged periods of time, and deprived of any visits.
Mudanjiang Prison inflicted the cruelest torture on Mr. Yu in November 2009. Warden Dong Yalin in Division No. 6, where Mr. Yu was held, ordered a group of inmates to brutally beat him. They knocked two front teeth out of Mr. Yu's mouth. Then they stripped him naked, hauled him to the bathroom, and poured cold tap water all over him. It was sub-zero temperature in northeastern China. They tortured him from 4 p.m. to midnight.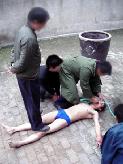 Torture Re-enactment: Doused with cold water
At the end of 2010, Mr. Yu was brutally beaten. His leg was broken and his breastbone protruded from his chest. He still suffers dizziness, cannot see clearly, and has problems walking.
Despite his severe injuries, the guards forced him to do hard labor and beat him when he refused to comply with their orders.
Mr. Yu applied for an early release due to his poor condition. During the investigation by the court, he exposed the abuse and torture he had been subjected to at the prison, as well as "transformation" through coercion. As a result, Mudanjiang Prison officials in Division No. 6 were reprimanded. Subsequently, the prison authorities tortured Mr. Yu in retaliation, forcing him to stand without moving for long periods of time.
Facts of the Persecution of His Wife, Wang Meihong
Ms. Wang Meihong is the wife of Mr. Yu Zonghai. She is 54 years old. Su Lei and his fellow officers from Xinhua Police Station in Mudanjiang City arrested her at her aunt's home at around 10 p.m., October 22, 2003. She has suffered from a long litany of cruel torture over the past nine years.
Su Lei put a gun to her head while other officers searched her and confiscated 50 yuan from her. About seven officers surrounded and beat her while trying to take a piece of paper that she had swallowed. They dragged her from the seventh floor to the ground floor. By the time the officers threw her into a police car, her shoes had been torn. They also ripped out a handful of hair from her head. An officer was seen repeatedly slapping her face with a book. Her face was swollen and her clothes were torn.
She was taken to the State Security Team in the Dong'an District, Mudanjiang City, to be interrogated. Zhang Fu, the team captain, had about 20 officers taking turns interrogating her. She was kept in a metal chair for three days and nights and was deprived of sleep. Her feet were terribly swollen by the third night. When the police could not get any information from her about her fellow practitioners, they put her in a detention center. A physician at the center checked her when she was taken into custody and announced that she was injured front and back.
In March 2004, the intermediate-level people's court in the Ai'min District of Mudanjiang City sentenced Ms. Wang to 11 years in Heilongjiang Women's Prison. The sentence began on March 24, 2004. Warden Yang Hua of Section No. 7 of the prison made Ms. Wang stand still all day long. She also made her do the hardest labor available. She was made to work on two machines that can get as hot as 356ºF. The workroom became unbearably hot when the local temperature averaged 85ºF. Ms. Wang's health deteriorated quickly, and her hair turned gray.
The prison began a new round of persecution of Falun Gong in November 2006. Because she refused to "transform" and refused to renounce Falun Gong, she was transferred to Section No. 4 for an escalated level of torture. She was very closely watched by inmates. She was made to sit still on a small short stool from day to night. She was followed at all times, even when she used the bathroom or did the dishes. She was watched even when she used the bathroom in the middle of the night. She was forbidden to speak to any fellow practitioner she ran into in the corridor. She would be scolded and even verbally insulted if she should speak to any fellow practitioner.
Ms. Wang was transferred to Section No. 6 in February 2008. Warden Yan Yuhua of Section No. 6 had a talk with her. She warned her of the consequences if she didn't give up practicing Falun Gong. She also transferred Xu Zhen, a notorious murderer, to Section No. 6 and ordered her to torture Falun Gong practitioners. The workroom in Section No. 6 was very dark, cold, and humid. Ms. Wang had lower back pain and coughed often. She also had heart problems. The long-term torture took a severe toll on her health.
One day they finished their labor quotas early. Ms. Wang decided to do Falun Gong's sitting meditation on her bunk bed with a quilt covering her. The inmates eventually realized she was practicing Falun Gong. Guard Zhang Xiaojuan and several inmates, including Xu Zhen, went into her cell and pulled her off the bunk with her legs still crossed in the meditation position. Her right knee touched the floor first, yet her legs remained in the meditation position and her hands in jieyinposition. Zhang Xiaojuan was outraged. She pulled Ms. Wang's hands and legs apart by force. She also had Ms. Wang suspended in the air with her arms and legs spread out. Zhang gave Ms. Wang another warning. This time Ms. Wang was left limping for several days. In fact, her right knee still hurts to this day.
She was transferred yet again to Section No. 3 on July 3, 2008. Her hair had grown long. Tao Shuping, the director of the prison administration, ordered that her hair be cut. She refused to have her hair cut against her will. Tao told others, "Trim her hair down the center of her head." No one obliged, but her hair ended up looking like it had been chewed anyway.
Heilongjiang Women's Prison started yet another round of persecution of Falun Gong practitioners in December 2011. Ms. Wang was separated from other practitioners. A murderer was transferred over to watch her. Ms. Wang was closely watched by two inmates. She didn't have any opportunity to see or talk to any other practitioner. Several guards offered a term reduction if Ms. Wang would agree to renounce Falun Gong. She refused and explained to them important facts about Falun Gong.
Facts of the Persecution of Mr. Yu's Older Sister, Yu Zhenjie
Ms. Yu Zhenjie, 56, is Mr. Yu Zonghai's older sister. She used to work for Mudanjiang City's Office Supply Bureau. She lives in 1-502 City Committee Building, Shenglin Street, Mudanjiang City. She has been practicing Falun Gong diligently since she started in 1996. She used to suffer from postpartum stroke, rheumatoid arthritis, and heart disease. She became completely healthy after she started practicing Falun Gong.
Her husband works in the Mudanjiang City government and fell prey to the CCP's lies about Falun Gong. In fact, he was transferred to the local 610 Office created to suppress Falun Gong. He repeatedly beat her in order to force her to renounce Falun Gong. Yet she did not hate him. She has persevered in her faith in Falun Gong. In the past 13 years she was repeatedly arrested, incarcerated, beaten, suspended in the air, assaulted with electric batons, force-fed (not as a means of nourishment, but torture), injected with drugs damaging her central nervous system, and many other forms of cruel torture.
Ms. Yu has fled to the United States and is working hard on rescuing her brother and sister-in-law.
Facts of the Persecution of Mr. Yu's Niece
Ms. Yu Zhenjie's daughter, Mr. Yu Zonghai's niece, was a philosophy major at Heilongjiang University. She was expelled because she practices Falun Gong. She was repeatedly arrested for exercising her constitutional right as a Chinese citizen to appeal for Falun Gong. The police once put a nationwide bounty of 100,000 yuan on her. After she was arrested, she was sentenced to three years in Wanjia Women's Forced Labor Camp in Harbin City, Heilongjiang Province. She was repeatedly beaten by guards for refusing to renounce Falun Gong. Her nose was broken while being beaten in the labor camp.
Facts of the Persecution of Mr. Yu's Father
Mr. Yu Zonghai's father also practices Falun Gong. He used to do the Falun Gong exercises at Mudanjiang City Stadium. He passed away after learning that his children were suffering from such brutal persecution.
Mr. Yu's Older Sister Flees Overseas and Calls for Help to Rescue the Yu Family
Mr. Yu's older sister and niece have both fled overseas. Mr. Yu's sister made a speech at a press conference in front of the Flushing Public Library in New York City on August 6, 2009. She said, "My younger brother, Yu Zonghai, is six years younger than I am. He is a creative artist. He and his wife were sentenced to 13 and 11 years in prison because they refuse to renounce Falun Gong. They are presently incarcerated in Mudanjiang Prison and Harbin Women's Prison. I call upon the U.S. government and all kindhearted people to help rescue them."
She also described the torture she has faced as a Falun Gong practitioner: "I was repeatedly attacked with electric batons in prison on my face, neck and body until my flesh was torn. They knocked out my teeth when they force-fed me. I was suspended in the air for long periods of time until the pain rendered me unconscious. I was injected with unknown drugs that caused me excruciating pain in my abdomen and lower back. It was worse than labor. I passed out in agony. When a doctor woke me up by prying open my eyes, I remembered nothing. The drug made me mentally dull."
Falun Gong practitioners in New York had a public assembly on September 24, 2012, before the headquarters of the United Nations, where national leaders, monarchs, and senior representatives from around the world had gathered to meet. To raise public awareness, Ms. Yu revealed the cruel tortures faced by her family in China.
U.K. Falun Gong practitioners set up an information booth in downtown Birmingham on September 15, 2012. Practitioners displayed and distributed materials containing important facts about Falun Gong and China's persecution of Falun Gong. Practitioners collected signatures on the letter of appeal for the rescue of Mr. Yu Zonghai and Mrs. Wang Meihong that their daughter had written.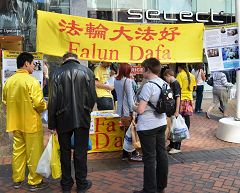 Falun Gong practitioners hold an assembly in downtown Birmingham and collected signatures on the letter of appeal for Mr. Yu Zonghai and his wife
Mr. Yu's child (gender undisclosed, assumed a son) graduated from Cambridge School of Art. He wrote in his appeal letter: "My father Yu Zonghai has benefited from practicing Falun Gong. When I visited him in prison, he was covered with wounds, because the policemen often ordered the criminals to beat him. They had knocked out most of his teeth and had broken his legs. He is almost blind due to the torture. He told me that the police hit his chest with electric batons, which caused breathing difficulties. He was healthy, but now he has heart problems." "He is very weak due to the torture, but the police still force him to do hard labor." "My parents are being tortured every day. Their lives are threatened. I ask everyone with a sense of justice to help."
When former U.S. President Bill Clinton attended a presidential campaign rally in Bristol, VA, on November 3, 2012, Ms. Yu Zhenjie and fellow practitioner Angela Wang spoke with the former president and shared with him important facts about the persecution of Falun Gong practitioners in China. He listened and commented, "Oh, I am sorry you have to go through it." Then Clinton shook hands with them and hugged them.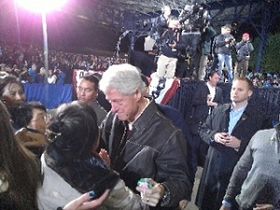 Bill Clinton hugged Ms. Yu Zhenjie, a Falun Gong practitioner, at a presidential campaign rally in Bristol, VA, on November 3, 2012
Ms. Yu Zhenjie also joined Angela Lee in speaking with Mr. Martin Luther King, Jr. at the 2012 World Congress of Religions and shared with him the persecution faced by Falun Gong practitioners in China. A renowned human rights activist, Mr. King is the eldest son of Dr. Martin Luther King. Mr. King, Jr. was shocked by the Chinese regime's crime of killing Falun Gong practitioners for their organs. He immediately offered to help end the persecution and signed the letter of appeal.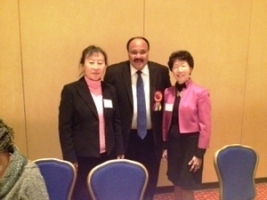 Mr. Martin Luther King, Jr. (center), Ms. Yu Zhenjie (left), and Angela Lee (right) at the 2012 World Congress of Religions (Curtesy of Epoch Times)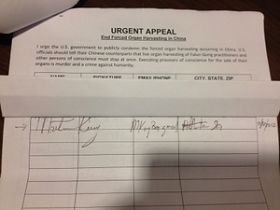 The letter of appeal to end the persecution of Falun Gong
The letter of appeal signed by Mr. King says, "I urge the U.S. government to condemn the forced organ harvesting occurring in China. U.S. officials should tell their Chinese counterparts that live organ harvesting of Falun Gong practitioners and other persons of conscience must stop at once. Executing prisoners of conscience for the sale of their organs is murder and a crime against humanity."