When told that Falun Gong can benefit people's health and teaches people to be good, some people challenged her: "If Falun Gong is so good, you can just practice it at home. There is no need to reveal it in public."
Mrs. Ding told them from her own experience of having benefited from practicing Falun Gong: "I was not deceived by the CCP propaganda because Falun Gong practitioners told me the truth. Now, I am very healthy because I practice Falun Gong. If it was not for Falun Gong, I would still be tortured by disease and live in pain. I hope you can also come to understand the truth."
(Minghui.org) In order to persecute Falun Gong and instill hatred of Falun Gong among people, the Chinese Communist Party (CCP) has fabricated many lies to deceive the public, including the Tiananmen Square "self-immolation" hoax, the "1,400 deaths" from not taking medicine, and other propaganda. In order to dispel the lies, a group of Falun Gong practitioners in Taiwan has been calling people in mainland China, across the Taiwan Strait, to tell them the facts about Falun Gong. These practitioners have shared their first-hand experiences to help break through the CCP's lies.
After Falun Gong was first introduced to the public in 1992, it quickly spread by word of mouth due to its powerful healing effects and improvement of moral character,

xinxing

. Within six years, an estimated 100 million people were practicing Falun Gong in China. Some who had suffered from difficult and complicated illnesses, or even incurable illnesses, were cured. Most became healthier than they had been before. In addition, they tried to be good people, which led to improved home and work environments, and caused people around them to praise them.
By relaying their personal experiences of benefiting from Falun Gong to people in China, practitioners in Taiwan and other regions can effectively dispel the CCP's slanderous propaganda. The following is a story about Mrs. Ding Yingren, a practitioner from Taiwan who has

clarified the truth

to people in China over the phone.
Diseases Disappeared After Practicing Falun Gong
Mrs. Ding, a petite woman, is 50 years old. She owns a hair salon. She is an honest, hard-working and traditional Taiwanese lady. When she was a child, she was weak and sentimental. As she grew up, she felt that life was very bitter. She realized that fame and love vanished quickly, like a puff of smoke, without leaving any trace of practical sense. Mrs. Ding sought ways to avoid going through the cycle of rebirth and reincarnation (according to Buddhist belief), and she read many books in hopes of finding the answer. Those books were part of her dowry when she got married. She also looked for answers from various religions, but to no avail.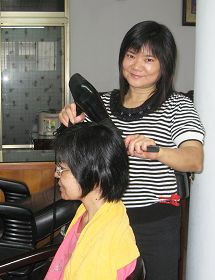 Mrs. Ding at work
Mrs. Ding's health gradually deteriorated because of her accumulated fatigue from managing daily life trifles and hard work. Her year-round nasal allergy and body aches frequently prevented her from sleeping well and thus greatly affected her life. She sought medical treatment, but to no avail. She felt sad that her child had also inherited her allergy problem. She tried various folk remedies, as well as eating healthy and sleeping on a special bed, spending more than TWD$100,000 (approximately US$3,400) annually, but nothing worked.
In 2001, Mrs. Ding's friend told her about the health benefits of Falun Gong. Mrs. Ding also witnessed the improved health of her friends who practiced Falun Gong for just a short period of time. She then took her whole family and some friends to attend the local viewing of Falun Gong lectures. Listening to Master Li's lectures on video, she was surprised and deeply moved: "It is spoken so well! How could it be possible to have such a nice cultivation way in the world? This is exactly what I want!" She had the feeling of awakening and was very excited. She became determined on the spot that she would practice Falun Gong cultivation regardless of whether it could cure her diseases or not. To catch every single word in the lectures, she then requested the person next to her to stop speaking to her husband.
"I am fortunate to have obtained the "Fa. The more I cultivate, the more I realize how lucky I am," Mrs. Ding said with tears in her eyes. She has never taken any medicine or visited any doctors since she started practicing Falun Gong in 2001. Not only did she regain her health, but her child's allergy also disappeared. Seeing their improvement, her husband became very happy, making a joke that he could now save a lot of money for a second house.
Raising Awareness to Resolve Doubts
When Mrs. Ding learned that Falun Gong was being severely persecuted in China by the CCP, and that people have been misled to become hostile toward Falun Gong, she felt obliged to make people aware of the truth. She thought that talking to people by phone was the most direct and convenient approach, so she started calling people in China to tell them the facts about Falun Gong and the importance of renouncing the CCP.
Mrs. Ding has called all types of people. Some people were willing to listen to her and some were not. Some people understood the truth and thanked her, while others badmouthed her and hung up the phone. She understands the uncertainty that people in mainland China may feel about receiving phone calls from strangers. She always answers their questions friendly and patiently, but with a firm tone.
When told that Falun Gong can benefit people's health and teaches people to be good, some people challenged her: "If Falun Gong is so good, you can just practice it at home. There is no need to reveal it in public." Mrs. Ding told them from her own experience of having benefited from practicing Falun Gong: "I was not deceived by the CCP propaganda because Falun Gong practitioners told me the truth. Now, I am very healthy because I practice Falun Gong. If it was not for Falun Gong, I would still be tortured by disease and live in pain. I hope you can also come to understand the truth."
When people questioned if she was afraid to reveal her phone number, Mrs. Ding said to them, "I call you from Taiwan through the Internet because it is cheaper this way. The Internet does not show callers' phone numbers. I can give you my cellular phone number. You can call me when your family members and friends want to renounce the CCP and it affiliated organizations."
Deceived by CCP propaganda, some people also questioned whether they would be paid to practice Falun Gong. Mrs. Ding always told them, "Falun Gong is free. Where will the money come from? Health is wealth. You can work to earn money when you are healthy. I earned my own money to pay for this telephone call. Many people are unable to work because of health problems. Even worse, they have to spend a lot of money on medical expenses."
If the phone call recipients are willing to listen, Mrs. Ding said that she can feel the changes in them after they understand the truth. The following are two examples.
Being Compassionate to Save People
Once Mrs. Ding told a woman on the phone about the current status of the movement for quitting the CCP. The woman asked, "Who are you?" She appeared even more frightened after learning that Mrs. Ding was a Falun Gong practitioner. Mrs. Ding explained how five high-ranking Chinese officials have been sued and indicted in a Spanish court for their cruel persecution of Falun Gong. Mrs. Ding also informed the woman that Falun Gong has been embraced by people in more than 100 countries around the world. Mrs. Ding explained to her; "To persecute Falun Gong, the CCP has continuously falsified the truth through its [state-run] media and has wrongfully accused Falun Gong of causing suicides, self-immolations and psychotic diseases. Please think it over. If it is true, Falun Gong should have disappeared already. Please do not be fooled by the CCP."
Mrs. Ding reminded the woman how Christians were persecuted in history. To frame and persecute Christians, Nero, the emperor of ancient Rome, set fire to scorch the city and then blamed it on the Christians. Subsequently, as part of karmic retribution, there were four massive epidemics, leading to the destruction of the Roman empire. Mrs. Ding said: "In China, the CCP will also be condemned and destroyed by gods because of its persecution of Falun Gong and atrocities such as harvesting organs from living Falun Gong practitioners for profit. If you are a CCP member, you will share the same fate. To save yourself from such retribution, please quickly separate yourself from the wicked Party and its affiliated organizations. I can help you quit the CCP with an alias." The woman then understood the truth and firmly said, "Please go ahead and help me withdraw from the Party." Mrs. Ding also told the woman to recite "Falun Dafa is good" to have blessings in the future.
Some Chinese people, having been instilled with propaganda that the Chinese Communist Party is China, consider quitting the CCP to be a political or unpatriotic act. One young man who answered Mrs. Ding's call responded: "I won't quit the CCP because I love my country." Mrs. Ding explained to him: "My advice for you to quit the CCP is for your own protection. It is nothing political. You probably remember that when you joined the CCP, you had to clench your fist and vow to devote your life to the Party in front of its flag." The man said, "I thank you if your advice is for my goodness." Mrs. Ding responded: "I really wish the best for you. If you love your country, you need to cherish your own life, so that you can contribute to your country some day, not be eliminated with the CCP. Renouncing the CCP does not mean that you resign your nationality."
Mrs. Ding told the young man many facts about Falun Gong, but he replied that it was superstitious. Mrs. Ding said: "What is wrong with superstition if it can keep us healthy and teach us to be compassionate and kindhearted and have harmony in the family?" The man then replied: "If what you say is true, it seems good." Mrs. Ding further explained the importance of renouncing the CCP and its affiliated organizations. Finally, the man understood the truth and agreed to quit the Party with an alias.
Every day, Mrs. Ding does the Falun Gong exercises at a group practice site early in the morning, before work. In the evening, from 7 to 9 p.m., she calls people in China to clarify the facts about Falun Gong, and later she studies the

Fa

. She has talked to many people, including men, women, the elderly and the young. Some were mad at receiving the phone calls, while others were glad. Some understood the truth, while others did not. No matter what kind of circumstance she has faced, her sincerity has never wavered. She hopes that more Chinese people choose an auspicious future for themselves.
Why Jiang Zemin and CCP Persecute Falun Gong?
[VIDEO] Why Jiang Zemin and CCP Persecute Falun Gong?