In the house where Shupeng lives by himself, the walls, ceilings, doors and family photos are covered with words spelling out his longing.
He wrote such phrases as, "I miss dad," "I want to see my mom," "A family of three" "Never separate again".
Seeing these sad, touching words can easily cause one to break down in tears.
June 06, 2013 | By a Minghui correspondent from Heilongjiang Province, China
(Minghui.org) Yan Shupeng, a 15-year-old teenager in Heilongjiang Province, had a mental breakdown on the night of March 30, 2013. He ran outside, looking and calling for his mother everywhere, and chased after people. Police locked the teenager up in his home, securing him with three iron chains. Cold and lonely, he spent the night home alone again. He managed to get out of the chains the next day and ran outside again.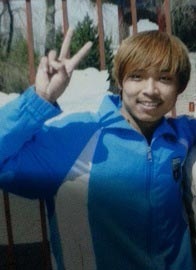 Yan Shupeng (before mental breakdown)
In the house where Shupeng lives by himself, the walls, ceilings, doors and family photos are covered with words spelling out his longing. He wrote such phrases as, "I miss dad," "I want to see my mom," "A family of three" "Never separate again". Seeing these sad, touching words can easily cause one to break down in tears.
Who drove this 15-year-old teenage into a mental collapse?
Dad died as a result of persecution
Shupeng lives in Zhengde Village, Dancheng Town, Shuangcheng City, Heilongjiang Province. Both his father Mr. Yan Shanzhu and mother Ms. Chen Xiumei are Falun Gong practitioners. Shupeng used to have a happy childhood. For him, a happy life meant family members living and laughing together. Whether they were rich or poor was not important.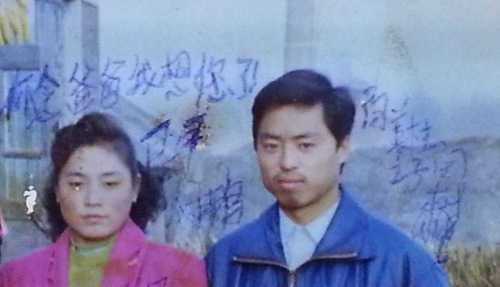 Photo of Mr. Shan and Ms. Chen (words on the photo were written by Shupeng, and mean he misses his parents)
After Jiang Zemin and the communist regime began to persecute Falun Gong in 1999, however, the family began a long and difficult journey, just like millions of other families who practice Falun Gong.
When Mr. Yan and Ms. Chen went to Beijing in January 2000 to appeal for Falun Gong, both were

illegally arrested

and detained at the Shuangcheng Second Detention Center for 15 days. They were later extorted 6,000 yuan before returning home. Shupeng was 7 years old at the time.
When Mr. Yan went to Beijing again one year later, Dancheng Police Station agents stopped him on the way and kept him again at the Shuangcheng Second Detention Center. He was then transferred to the notorious Changlinzi Labor Camp in Harbin for a term of three years. Guards often tortured him because he refused to give up his belief. They once kept him in a solitary confinement cell, and labor camp head Shi Changjing shocked his face with an electric baton. When Mr. Yan went on a hunger strike to protest the mistreatment, guards force-fed him. As a result of the mistreatment he developed severe tuberculosis.
When Mr. Yan's three-year term ended in 2003, he was extremely weak. In order to support his family, he nonetheless had to go out to work despite his poor health. He died on October 3, 2004, at the age of 36. Shupeng was 11 years old at that time.
Mother detained and beaten
Ms. Chen was also persecuted many times. She looked after her mother, who could not take care of herself. One day in December 2000, six Dancheng Town officials (including Chen Fubin and Fan Zilin) broke in and arrested her. Her mother, ill in bed, asked, "Why do you arrest my daughter? What did she do wrong?" Officials said that, since the communist regime does not allow anyone to practice Falun Gong, anyone who does so is committing a crime. They took Ms. Chen away without even letting her put on a coat, and then brutally beat her in a township conference room.
Ten days later, another officer named Chen Shaowu came and demanded an answer. Ms. Chen Xiuhua stated: "I will practice as long as I am alive." The official went berserk. He took off his coat, rolled up his sleeves and screamed: "I don't care about the consequences. I am going to beat you to death today." He slapped her face non-stop until he was completely worn out, and then started again after taking a break. He beat her to the ground, and kicked and stomped on her. An elderly factory worker who could not bear the scene anymore came and helped Ms. Chen Xiuhua get out of the room.
Surrounded by terror
The death of his dad left Shupeng in grief and sorrow. He could only bury his feelings deep in his mind, since there was no place to express them. He knew that his parents were good people and hadn't committed any crimes. But why would someone wrongly persecute them and break apart the family?
Afraid of losing his mother, the mental pressure that Shupeng faced kept increasing. At the age of 14, unable to withstand the pressure and the uncertainty of these tragedies anymore, he had a mental breakdown. His condition improved when he stayed with his mother. But to make a living for the family, Ms. Chen had to travel to other cities to work and leave Shupeng at home.
When Ms. Chen put up truth-clarification materials near her workplace on May 16, 2012, someone reported her to the police. Agents took her to the Xiangfang District Domestic Security Division in Harbin City and she was sentenced to 18 months of forced labor. She is now detained at the Qianjin Labor Camp in Harbin City.
The relatives and neighbors dared not tell Shupeng about this, fearing that he would have another breakdown. But his mental stress kept increasing, as he was already grieving for his dad and had not seen his mom for a long time. In order to express his feelings, he wrote his words of longing on the walls, ceiling, doors, and photos. The words he wrote were, "I miss dad"; "I want to see my mom"; "A family of three"; "Never separate again"; "I was almost frozen to death yesterday". Seeing these sad, touching words, many people were moved.
Shupeng's overwhelming depression and despair led to another mental breakdown on March 30, 2013.
Relatives and neighbors requested Ms. Chen's release and were denied
When Mr. Yan's relatives sought help on April 5, 2013, many people came forward to help. One village official and his relatives went to the Qianjin Labor Camp on April 8 to request Ms. Chen's release.
Zhang Bo, Managing Office supervisor at the labor camp, said they would not release Ms. Chen without approval from the Shuangcheng City

610 Office

.
When Shupeng's relatives went to the Shuangcheng 610 Office the next day, they were told to obtain certain documents from the labor camp. They went to the labor camp with newly obtained materials to get approval from township office and the county 610 Office. One of the township officers was very sympathetic and said, "You have all the documents ready now. Please go to the labor camp and pick up Ms. Chen."
In order to help the family, the village office and hundreds of village residents signed their names with their fingerprints to request Ms. Chen's release.
When the relatives went to the Qianjin Labor Camp on April 12, Zhang Bo looked at the documents and asked for proof of a mental disorder provided by a physician. The relatives said his father died and his mother is detained in a labor camp, there's no one to be responsible and pay for such a medical examination. Shupeng's aunt was very nervous and cried. Zhang then told them to contact the Domestic Security Division who arrested Ms. Chen. He said Ms. Chen would be released if the labor camp detention was canceled.
The relatives went Xiangfang District Domestic Security Division on April 15, to meet Mao Linchang, who was responsible for the case. Mao refused to meet them face-to-face but over the phone denied his involvement.
The relatives could not do anything. They went to the labor camp the fourth time. Zhang insisted on a medical examination to prove Shupeng's mental disorder. Shupeng's aunt cried and begged him, saying it was lawful for the labor camp to do this since all the documents were ready. Zhang said, "If you keep crying like this, that is considered interfering with law enforcement here. You will be arrested." The labor camp head surnamed Hao said, "I cannot release Ms. Chen, because I want to keep my job."
Faced with all these difficulties, the relatives gave up hope to obtain Ms. Chen's release. They were very sad, but there was nothing they could do. Meanwhile, Shupeng had no idea that his relatives were trying to get his mom released, and on April 16 he once again broke out of his relative's place. Now the grieving and depressed teenager has been sent to a mental hospital.
This is only one example among millions of cases in which Falun Gong practitioners were mistreated and persecuted for their belief. Many families were broken apart and parents were separated from their children.