With the arrival of Mother's Day, a day we all celebrate, daughters and sons around the world are giving their mothers warm blessings, but in China the spotlight is on the tragedy of the kind-hearted mothers being persecuted.

From Sichuan to Tianjin, to northern Heilongjiang Province, mothers have been arrested for their beliefs, and their children yearn for their release.
Daughters have also been arrested, and their mothers wait for them at home. These mothers and daughters who have been unlawfully jailed are all good-hearted people. For their family members, Mother's Day is filled with sad tears and expectations.
70-Year-old Mother Wrongfully Sentenced to Twelve Years in Prison
Ms. Gao Deyu, 72, from Liangshan Zhou, Sichuan Province, was sentenced to 12 years in prison by the Xichang City Court in September 2010. Ms. Gao suffered from very serious arthritis and hepatitis B, among other problems, before she started to practice Falun Gong. When she was ill, her family members were busy looking after her. The moment she was hospitalized, her family became burdened with very heavy debt. But in 1997, when she started to cultivate Falun Gong, within a few months, her illnesses disappeared, without medical treatment. With her physical health improving, Ms. Gao Deyu followed the teachings of Truthfulness-Compassion-Forbearance, and was acknowledged by everyone around her as a good person.
Ms. Gao was once run over by a motorcyclist. She was seriously hurt and her legs began to swell up right away. The driver was frightened, and so he quickly asked where she was injured, and whether she needed to go to the hospital. Ms. Gao Deyu slowly stood up and said, "Friend, go slowly when you ride your motorcycle and you won't get into trouble again. I am fine and you may leave." The driver dared not leave. Ms. Gao Deyu said, "Please leave. I practice Falun Gong, which teaches people to be kind-hearted, and I won't cause trouble for you."
The young man was in tears after hearing this, "Madame, you are so kind. Today I really have met a kind person, a Falun Gong practitioner. If I had collided with anyone else today, I would have been in big trouble. It isn't easy for me to make money by running this motorcycle. All the money that I have earned for the past several months I might have had to give to the hospital!"
Ms. Gao Deyu and her family have been persecuted by the Xichang Political and Judicial Committee. They have been arrested more than ten times and taken to the detention center and brainwashing center. At around 11:00 a.m. on September 26, 2009, Ms. Gao Deyu was arrested when she was at the Dashijie Computer Store, and was later sentenced to a 12-year term. During this time, her family was extorted of five thousand yuan. The defense lawyer was prevented by Chinese Communist Party (CCP) officials from meeting with Ms. Gao. The deputy secretary general of the Xichang City Political and Judicial Committee openly stated, "Don't talk to me about law. We don't care about the law."
Ms. Gao Deyu was jailed at the Women's Prison of Longquanyi, in Chengdu. She became critically ill after just two days. The prison said that when she was transferred from Xichang, physically she had "four criteria" that did not meet the standard. Her blood pressure had reached 228. Several days after she was sent to Jintang Prison, one of her teeth was missing, and her hands, feet, arms, and legs were all black and blue.
Three other women– Cheng Donglan (in her sixties), He Zhengqiong, and her Aunty He Xianzhen (in her sixties)–were arrested at the same time as Ms. Gao Deyu. The mother-in-law of Ms. He Zhengqiong's daughter, Hu Yunhuai, was arrested by the police in front of the school where she had gone to pick up her grandson. She was taken to the Tuohuang Detention Center and brutally tortured by the officers from the Xichang 610 Office and National Security Bureau. She was tortured to death on October 21, when she was just 54. Her body was cremated per orders from the National Security Bureau.
Kind-hearted Mother and Daughter Arrested and Imprisoned
Ms. Xu Qilan's daughter described their life this way, "As far as I can recall, I don't know what my father looks like, and I don't know what a father's love is like. We reside at the small adobe house in the mining area. It was cold in winter and hot in summer, and the roof leaked as well. In winter, my mother used very little coal, and the water in the tank was always frozen. For many years, I seldom saw my mother buy new clothes for herself. After we went to school, she had only two meals at home. It was often plain noodles with preserved, salted vegetable. We did not buy meat except for the Chinese New Year. However, since my mother started practicing Falun Gong, I did not see her ever have any illness. I remember once when we moved, in order to save several dozen yuan, she asked my two elder sisters to move the briquettes and firewood with us. They had to go back and forth numerous times."
Ms. Xu Qilan is a practitioner from Shuangyashan. When her children were small, her husband died after he was injured at work in the mineral field. Since then, Ms. Xu Qilan and her children depended on each other for survival. In the most difficult period of her life, Ms. Xu Qilan found Falun Dafa. Ever since then, her children could once again see a smile on her face, and their mother also became very strong spiritually. Ms. Xu Qilan has supported all three children through attending a university, and this also made her very satisfied. For fifteen years, she endured all kinds of suffering!
Her children said, "As for the situation at home, when someone was ill, how could we afford to buy medicine?" My mother upholds the principle of Truthfulness-Compassion-Forbearance, and she has become more loving and helpful. All my neighbors said that she was doing something very righteous. She uses her very weak shoulders to fulfill the heavy responsibilities of bringing up and supporting her three university children. She is truly a great mom!
However on Mother's Day in 2012, Ms. Xu Qilan was arrested for handing out Shen Yun DVDs that promote the Chinese traditional culture, and she was later wrongfully sentenced to four years.
When their mother was in prison, her three daughters were burning with impatience.The fourth day after she was arrested, her oldest daughter and her boyfriend went to Shuangyashan City to rescue her. However they ended up being beaten and extorted of ten thousand yuan. Their 60-year-old aunty who went with them was pushed down to the ground twice by the police. Her three daughters were busy trying to help, but in the end, they received the news that their mother had been sentenced to a four-year term. When the appeal time had almost expired, the family found out that the court had sentenced her even before they notified her lawyer to come from out of town. Her family went to the Shuangyashan Detention Center on December 10, 2012 to visit her, and were told that Ms. Xu Qilan had already been sent to Harbin Women's Prison, which her family knew nothing about.
Paralyzed Mom in Her Seventies Looks Forward to Having Her Son Back
Mr. Wang Guiqi, a practitioner from Tianjin has been imprisoned for over six months, from November 2012 to today. His paralyzed mother, who is in her seventies, has not seen her son for a long time. Each day when she wakes up, she cries and looks for her son.
Wang Guiqi's father died when he was small, and he was the eldest at home. Ever since he was young, he has provided financial support for the family. At his workplace, he was a good worker and technician. However just because he believes in Falun Gong, he has been arrested five times in the past ten years. The long-term persecution forced Wang Guiqi to do odd jobs with very little salary. He had to take care of his elderly mother and young child. He suffered tremendously financially and in his his daily life. In March 2011, Wang Guiqi's wife was sentenced to a three and a half year sentence, and she has since been imprisoned and tortured at the Tianjin Women's Prison.
Wang Guiqi was again arrested by police last November for

clarifying the truth

, and has since been detained. During this time, his over-70-year-old mother and family went to the relevant departments several times to appeal, strongly requesting his release. However the departments of the CCP all stalled them off. When the staff had no explanations, they even said, "You just go ahead and sue the court then."
Wang Guiqi and his wife remain imprisoned. Each month, the family has to provide to the prison 500 yuan for Wang Guiqi and his wife's daily expenses. Their life has turned out to be very difficult. In early 2012, their mother was paralyzed in bed with illness.
80-Year-Old Mother Looks forward to Seeing Her Paralyzed Son
Lin Zehua is a practitioner from Youyi County, Shuangyashan City, Heilongjiang Province. His mother is 83 years old. Every day she misses her kind-hearted and innocent son, who has been tortured until he was paralyzed in Jiamusi Prison. The prison still refuses to release him. Thinking of how her son is suffering every day, the elderly mother is broken-hearted. She looks forward to having her son come home as soon as possible.
Lin Zehua is a very good person. He used to suffer from headaches and sore throats, etc. Sometimes when it got worse, he could hardly speak. There were polyps on his legs, and they were itchy, with fluid oozing out. He was near-sighted and could not see the color red. After he started practicing Falun Gong in 1996, he fully recovered. Later on, no matter whether Lin Zehua was doing business, processing foods, or driving a taxi, he always followed the principles of Truthfulness-Compassion-Tolerance, and never deceived others.
When Lin Zehua was running a fried food business, he never gave goods in short weight. When the goods turned bad, he always exchanged them. His neighbors always said, "We feel peace of mind when we buy goods from you." When Lin Zehua was running the food processing business, he was always honest and trustworthy. No one can detect if someone puts in less dough, oil, egg, or sugar. But he always put in the ingredients by following the standards. Whatever was left, he returned.
Later on, when Lin Zehua was driving a taxi to make a living, he never overcharged his clients, and he never competed against his colleagues. When someone took his parking spot, he never argued. When he saw a passerby with too many things with him, he would offer to give him a ride at no charge. All the neighbors in the surrounding areas praised him as a good person. After his wife divorced him, his ex-father-in-law came to Lin's family suffering from cancer, "I have five children. Although my daughter divorced Lin Zehua, I still feel that Lin is the best, and the most pious. When I die, I will pass my property to Lin Zehua."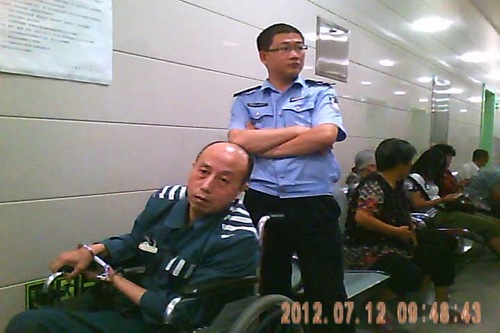 Lin Zehua, who was tortured to paralysis, had a check-up at a hospital in 2012
Lin Zehua was arrested by the police from Fenggang Town, Youyi County, and Shuangyashan as well. The Youyi County Court sentenced Lin to seven years with the so-called offense of "impeding law enforcement." Four months after he was sent to Jamusi Prison, he was tortured to the point of being paralyzed. The police instigated one of the prisoners named Li Yansong to push Lin Zehua down the stairs. His back and head were crushed as a result, and the lower part of his body became paralyzed. He can no longer walk and can hardly take care of his daily needs. Since it was difficult for him to move, in order not to have to go to the restroom often, every day Lin Zehua took him very little food. When he slept, he could not lie on his back. He could only half lie down. When he wanted to get up, he needed to pull on a rope, and one of his arms had to hold onto the ground. Two years after Lin Zehua was imprisoned, his father passed away, painfully missing his son.
Lin Zehua's mother feels her heart is bleeding, thinking how her paralyzed son suffers tremendously in prison. She worries whether or not her son will be released alive, and is also worried that she will not survive until the day her son comes home.