(Clearwisdom.net) (continued from
3. The CCP and Jiang's Group devastate Falun Gong practitioners' families
Jiang Zemin, the head perpetrator and his followers who started the persecution slandered and framed Falun Gong, using all the media tools of the whole nation to suppress Falun Gong and to justify the persecution. In the past five years, Jiang's communist regime has never followed the law in persecuting Falun Gong. Instead, Jiang Zemin announced special policies specifically for dealing with Falun Gong: "ruin their reputations, bankrupt them financially and destroy them physically," "Falun Gong practitioners beaten to death are counted as committing suicide," "Falun Gong practitioners tortured to death are to be directly cremated without identifying them." The CCP and Jiang's faction not only persecute Falun Gong practitioners without any scruples, but they also take villainous methods against the practitioners' families.
Police in Anshan City, Liaoning Province abduct practitioner Ms. Wu Yuqin and beat her husband to death
Around 1:00 a.m. on November 3, 2004, officers from the Qianshan Police Department in Anshan City did a foul deed. They dispatched five police cars and a group of officers, led by Zhang Chengguo, the head of the Political and Security Section at the police department. They then broke into the homes of Falun Gong practitioners Jin Ying and Wu Yuqin in the Qianshan Iron Mine Employee's Dormitory Compound in Anshan City, abducted Jin Ying and Wu Yuqin and took them to the Qianshan Police Department.
On November 7, Wu Yuqin's husband Sun Youlin, who is not a Falun Gong practitioner, went to the Qianshan Police Department to bring his wife a coat, but the police refused to tell him where she was being held. He went to the No. 1 Detention Center and the No. 2 Detention Center in Anshan City but didn't find his wife. He went back to the Qianshan Police Department and argued with the police. Incited by Zhang Chengguo, many police officers attacked Sun Youlin and beat him to death. A hole was found on the back of his head from beating, and his body was covered with burns from electric batons.
In order to cover up the murder, the police took Sun Youlin's lifeless body to the central city hospital. The doctor saw that Sun Youlin had been dead for quite some time so he didn't do anything. The police ordered the doctor to issue a suicide document but he refused.
After Sun Youlin's death, the perpetrators from the Qianshan Police Department went to Wu Yuqin's family for three consecutive days and told them Sun Youlin's death had nothing to do with them. They also said they would give them 80,000

yuan

if the family didn't file a lawsuit against them. They also threatened Wu Yuqin, "We are not done with you yet!"
Lawless police force practitioner's teenage son to act as witness at an autopsy
Falun Gong practitioner Liu Qiusheng lived in Qingdong Village, Cuimiao Township, Fucheng County, Hebei Province. On February 2, 2002, police abducted him and took him to the police department. Kou Wentong, the deputy head of the police department and Zhang Zhijun, head of the Political and Security Division, tied him up and tortured him for over one hour until he lost consciousness. It was learned from inmates that Liu Qiusheng was beaten many times later as well and he was force-fed on a

Death Bed

.
Within 20 days, from February 2 to February 22, this healthy and strong 44-year-old man was tortured to death. In order to cover up their crime, the police, including Kou Wentong, went to the village Party Secretary. They colluded to trick Liu Qiusheng's 16-year-old son Liu Dong to leave his factory job, to be present in the autopsy room, and to act as a witness.
The teen-ager, Liu Dong, had already suffered so much as a result of his father being tortured to death; he was severely traumatized when he saw the doctor cutting open his father's dead body. The police notified Liu Qiusheng's wife after the autopsy was finished. His wife went and saw that the ears, face, lips, right shoulder and right chest were black and blue, yet the official autopsy report claimed, "No external injury found; Liu Qiusheng died from fatty heart disease."
Liu Qiusheng's wife insisted on hiring a coroner herself, but the perpetrators didn't permit her request to be carried out and insisted on immediately cremating the body. Liu Qiusheng's wife and son fought with all their strength, but to no avail. Kou Wentong and other perpetrators called more than 100 roughnecks. Led by the head of the police department, they surrounded Liu Qiusheng's wife and son. They pinned them to the ground, stepped on their heads and covered their mouths to prevent them from shouting and moving. One of the thugs who held Liu Dong was the fake coroner who had "examined" Liu Qiusheng's body. The perpetrators hastily cremated the body. Thinking there was no longer anything the victims could do without the evidence, they shouted, "Now go and sue us!"
Falun Gong practitioner Ms. Gao Feng tortured to death; her body was cremated and her husband was ordered to slander Falun Gong
Falun Gong practitioner Gao Feng, former name Gao Xiufeng, lived in Xingsheng Township, Wuchang City, Heilongjiang Province. She was persecuted for practicing Falun Gong and left home in early 2001 to avoid abduction by police. Three months later. on May 9, she went home to help with the fieldwork. On May 12, Zhan Zhigang, the deputy head from the Political and Security Section of Wuchang City Police Department, and other perpetrators abducted her from home and illegally held her at Wuchang City's Administrative Custody Center. She held a hunger strike to protest the persecution. Seven days later, on May 19, Gao Feng died from a punctured lung as a result of force-feeding at Wuchang City People's Hospital.
Afterwards, the local police tried to cremate the body but Gao Feng's family refused to sign the death certificate and demanded an autopsy. Chen Shusen, deputy head for Wuchang City Police Department said, "You think we won't cremate her body if you don't sign it? We'll still do it without your signature; it's a common practice throughout the country." He ordered the body to be cremated. He also ordered five or six police officers to tie up another practitioner, Sun Qiang, and sent him to the Changlinzi Forced Labor Camp.
After the cremation, Chen Shusen went to Gao Feng's husband Wu Zhiqiang and said, "We'll give you 60,000 yuan if you say your wife died from practicing Falun Gong." Wu Zhiqiang firmly refused to betray his conscience; thus the authorities failed in their wicked attempt.
Labor camps and prisons commit murders and whitewash their crimes
During the past several years, the authorities at labor camps and prisons have deliberately and indirectly killed Falun Gong practitioners to stifle evidence of the persecution. Many practitioners were tortured to a wretched state at the labor camps and prisons, yet the perpetrators there ignore the practitioners' condition, do not provide any medical attention and do not notify their families until the practitioners are dead or dying.
The practitioners' families are faced with lawless police officers or guards backed by the government, and with nowhere to turn for justice, they have no choice but to take their loved ones home, who are often unconscious. Many practitioners taken home in this manner passed away soon after their release.
Falun Gong practitioner Mr. Li Guoshun in Baisha Town, Xinluo District, Longyan City, Fujian Province
Mr. Li Guoshun was 27 years old and had graduated from the Longyan City Industrial Vocational School in 1998. He was abducted by police on August 23, 2004 while distributing truth-clarifying materials, and was detained in the Longyan Detention Center. He held a hunger strike to resist the persecution. After 15 days, the detention center sent him to the Minxi Prison Hospital, where he continued on his hunger strike for another 25 days without receiving any treatment. Forty days later, on October 3, 2004 he was rushed to the Longyan City Second Hospital for emergency treatment but died ten days later, on October 14, 2004. During his hunger strike, Li Guoshun's mother asked twice for his release on medical parole but her request was denied.
Falun Gong practitioner Ms. Zhang Haiyan in Heishan County, Liaoning Province
Ms. Zhang Haiyan's nearsightedness and deformed right leg were corrected soon after she started practicing Falun Gong. After the persecution began in 1999, she persisted in practicing Falun Gong and didn't submit to pressure. She was illegally detained. Because she refused to give up her belief, the perpetrators hung her up with her hands cuffed, tied her up with ropes and brutally beat her. Nearly two years of inhuman torture harmed her tremendously, both physically and mentally. In February 2003, when her family visited her, they noticed her head was wrapped in a bandage and her hands were severely swollen. She didn't recognize her family. One month later, on March 21, 2003, authorities from the Masanjia Forced Labor Camp notified her family to pick her up. Zhang Haiyan was suffering from a complete mental collapse and could not take care of herself. She passed away in January 2004. Her 12-year-old son cried, "I will never see mother again!"
Practitioner Ms. Wang Fang died from persecution
Wang Fang lived in Hailin City, Mudanjiang Area in Heilongjiang Province. During the time she was illegally held at the Mudanjiang City Detention Center, the detention center deputy head slapped her mouth with slippers. During the time she was illegally held at the Hailin Detention Center, guard Shan Chengqiang demanded to know if she would still practice. Wang Fang said, "If I can't practice here, I'll practice at home." Shan Chengqiang clamped her hands with a torture device called "hand sticks," causing both hands to become immobile, swollen, and finally completely disabled. She was not given any food for nine days and nine nights, and the perpetrators whipped the soles of her feet with plastic tubes. Later she was transferred to Harbin City Female Prison in Heilongjiang Province where she was further tortured. She was released when she was only skin and bones. She passed away at 3:00 a.m. on September 24, 2004, within two months of her release.
According to statistics published by the Minghui website, many deaths of Falun Gong practitioners were intentionally caused by labor camp and prison authorities, in an attempt to cover up their crimes of torture and extortion.
4. Lies, Hatred and Implication Harm Innocent Lives
Faced with the Chinese Communist Party (CCP) authorities' atrocities, Chinese people are only permitted to watch the lies fabricated by the CCTV and theXinhua News Agency and are thus kept in the dark from what is really happening. The CCP mouthpieces stir up the so-called "Tiananmen Square Self-immolation" hoax again and again and defame Falun Gong with their fabricated lies. As a result, this instigated hatred permeates China's soil.
Such hatred has brought unimaginable trauma to Falun Gong practitioners and their loved ones. The emotional pain is more painful than the physical abuse. Those who have been duped by the hate propaganda regard Falun Gong practitioners as monsters, and stay away from them, isolate them, despise them, and even verbally abuse and defame them. Falun Gong practitioners' work units dismiss these innocent practitioners. Public opinion, demonizing Falun Gong, has made the whole society turn into a terrifying environment for practitioners attempting to live a normal life.
A middle-school student in Chongqing could not withstand the spiritual torment and attempted to drink pesticide
Ms. Li Qingqing, 13, is a student at Jiangjin Heping Middle School. She lives in the Ninth Section of Zhouwu Village, Luohuang Town, Jiangjin City in Chongqing. Qingqing became an orphan when she was only nine years old. Her father died of illness in 2000, and her mother, Falun Dafa practitioner Ms. Zeng Fanshu, died as the result of persecution in 2001 for practicing Falun Gong.
Qingqing's mother, Zeng Fanshu, was a Falun Gong practitioner and a former teacher at Xiangtang Middle School in Shuangfu Town, Jiangjin City. She started to practice Falun Gong in 1996. After the persecution began, the authorities abducted her six times. On December 19, 2001, the local police broke into her home and took Zeng Fanshu away. Because Zeng Fanshu refused to give up Falun Gong practice, she died from torture on January 2, 2000 (Chinese Lunar calendar), in the Dongmen Brainwashing Class in Jiangjin City.
Li Qingqing lost not only the love of her mother but also the warmth of her family. She has had to live in her uncle's home and often cries for her mother.
Because the Jiang faction defamed Falun Gong so viciously, the young children around Qingqing would not play with her. She could no longer bear such cruelties and once drank several ounces of a substance thought to be a pesticide. Even though others knew that she had taken the pesticide, no one dared to try to save her. Fortunately for Qingqing, the substance was not pesticide, so her life was spared.
Seven-year-old girl dares not to mention her parents' names
Zhen Xianchu, nicknamed Gege, is a girl who was born in January 1997. She is currently an elementary school student.
Her mother, Shen Jianli, a Falun Gong practitioner, had a Master's Degree in mathematics and was a faculty member of the Department of Applied Mathematics at the Nanling Campus of Jilin University in Changchun, Jilin Province. She died under the persecution in April 2002 at the age of 34. Her father, Zhen Weidong, is also a Falun Dafa practitioner. On March 6, 2002, the Nanguan District Court in Changchun sentenced him to 13 years in prison. He is currently imprisoned in the Shilingzi Prison in Siping City of Jilin Province.
Gege is afraid to mention her parents' real names. The seven-year-old girl becomes terror-stricken whenever policemen are mentioned.
Due to the hate propaganda from Jiang Zemin's regime, teachers and students in many schools in China are not aware of the persecution of Falun Gong or the truth about Falun Gong. Moreover, some schools have even ordered the children to participate in the signature campaigns attacking Falun Gong. Some schoolmasters and teachers call Falun Gong practitioners' children for private meetings, pressure them, and create a tremendous psychological burden for them. The children who have lost their parents are already in anguish. On top of that, their schools and teachers exert pressure, and their classmates misunderstand them, causing the children additional pressure. As a result they cannot concentrate in class and their grades suffer. This also has an adverse affect on their health.
The implication policy caused a family tragedy.
Ms. Yang Lirong, 34, lived on Beimen Street, Dingzhou City in Baoding Area, Hebei Province. She began practicing Falun Gong in 1998. In October 1999, she went to Beijing to appeal on behalf of Falun Gong and to tell people about the persecution of Falun Gong. Xiao Fudi, a police officer from Dingzhou City, arrested and held her in a detention center for two months. The authorities extorted 5,000

yuan

from her before she was released, and the police constantly harassed her after she returned home.
Her elderly parents had experienced atrocities during the Cultural Revolution and were very scared. The police took advantage of their weakness to often harass Yang's family. Yang's husband, a driver at the Bureau of Standards & Meteorology, was afraid to lose his job and often physically abused Yang Lirong. Yang Lirong lived her life according to Truthfulness-Compassion-Forbearance and treated her husband with kindness.
Later, the police harassed Yang's family at home and took her to a brainwashing class for further persecution. Yang persevered in speaking only the truth and would not give in. She was forced to attend brainwashing class three times. At this point, Yang's family could no longer withstand the tremendous pressure.
On the evening of February 8, 2002 (Lunar calendar December 28, 2001, a couple of days before Chinese New Year), police again went to Yang's home to search for Falun Gong materials. Without finding anything, they left in despair. Yang's husband could no longer withstand the tremendous pressure the authorities exerted on him. Early the next morning, taking advantage of the time when their elderly parents had stepped out of the house, he strangled his wife. Yang Lirong died tragically, leaving behind a ten-year-old son.
Soon afterwards, her husband reported the incident to the authorities. The police hurried to the scene to conduct an autopsy on Ms. Yang's body, which was still warm. They removed many organs from her body while the organs were still radiating heat and blood gushed out. A Dingzhou City Police Department staff member said, "This is no autopsy. It is a vivisection!"
When will the poor child of Yang Lirong recover from the tragedy of his father killing his mother?
5. Overseas Falun Gong Practitioners Deprived of Their Rights to Visit Families in China for Their Belief
During the past several years, the CCP's Jiang regime has constantly pandered its evil crimes overseas. All over the world, the international community has condemned their evil deeds. Governmental and non-governmental organizations in many countries have passed resolutions supporting Falun Gong and urging the CCP authorities to stop the persecution.
On October 16, 2003, U.S. Congresswoman Ms. Ros-Lehtinen, on behalf of herself and Ms. Woolsey, submitted House Congressional Resolution 304 to the 108thU.S. Congress, 1st Session, to go on record to state, "Congressional Resolution Regarding Oppression of Falun Gong in the United States and in China by the Government of the People's Republic of China."
Resolution 304 states that it is the sense of Congress that the government of the People's Republic of China should cease using the diplomatic missions in the United States to spread falsehoods about the nature of Falun Gong, and release from detention all prisoners of conscience, including practitioners of Falun Gong.
The CCP, however, continues on its path of perdition. The CCP denies overseas Falun Gong practitioners their rights to return to China to unite with their loved ones by confiscating their passports or refusing to grant visas to those who have become citizens of other countries.
According to preliminary statistics, so far there are cases in 17 countries of Falun Gong practitioners where the Chinese authorities had their passports confiscated, extension/renewal of passports denied, or having been refused a visa for returning to China. These countries are Canada, Japan, Italy, Switzerland, Hungary, Singapore, U.K., Ireland, the Netherlands, France, Denmark, Australia, Spain, Belgium, U.S., Germany, and New Zealand.
Falun Gong practitioners residing in foreign countries have legal status and valid passports. They should have the right to go back to China to visit their families. The CCP's severe trampling on human rights not only denies overseas Falun Gong practitioners the opportunity to return to China to unite with their families, but is also responsible for some practitioners being unable to go back to China to attend the funerals of their parents.
During the past five years, at every traditional festival, the practitioners from across the ocean can only yearn for a reunion with heir loved ones in China. The Falun Gong practitioners who had their passports confiscated or passport extensions denied cannot help asking, "Is it that those who cultivate 'Truthfulness-Compassion-Forbearance' don't deserve to be Chinese citizens?"
"Mom, why can't we return to China?"
One day in May at a Kansas Chinese school, all the children were discussing some exciting news. With the support of the Shandong Province Science Association, students and teachers would go to a summer camp in China. The exceptions were eight-year-old Qianqian and six-year-old Chunzhi, who were silent. What happened to these two little children? When they told their mother, Wang Dongmei, the good news a few days ago, their mother explained to them, "We can't go to China this time. Because mom and dad practice Falun Gong, the Chinese consulate has refused to renew our passports."
"Why does practicing Falun Gong mean one cannot have a valid passport?" In fact, it is not only difficult for children to understand this issue, but adults are also unable to comprehend it. It is absurd and irrational.
Kuang Jiyun and Wang Dongmei have been in the United States for over ten years. They currently reside in Kansas City. In January 2004, it was time to renew their passports. Mr. Kuang followed the guidelines on the website of the Chinese Consulate in Chicago, filled out the application forms and sent them in with the appropriate fees.
The mail went out on January 5, 2004. Two weeks passed, but they did not get their passports back. Someone from the consulate phoned Kuang at his office. The person did not explain why the consulate had not sent back their passports, but instead asked, "Are you still practicing Falun Gong?" Kuang replied, "Sure. Practicing Falun Gong is beneficial to one's health. Why should I stop the practice?" The person asked him to think twice about it and hung up.
After also not receiving any response from the Chinese consulate, on about February 10, his wife, Wang Dongmei, called the consulate to inquire about her passport . A consulate official told her that he could not make decisions on passport issues and needed to ask his superiors. He told her to keep waiting.
At the end of February, personnel from the visa department of the Chicago Chinese Consulate came to Kansas City to help local overseas Chinese with their passport extensions. Wang Dongmei went to inquire about hers, too. A consulate official told her, "Why don't you find another Qigong to practice? If you stop practicing Falun Gong, I will extend your passport right away."
This clearly demonstrated that the sole reason for the Chinese Consulate not to extend Mr. Kuang and his wife's passports was because of their Falun Gong practice.
Chinese Embassy Personnel in Bonn, Germany, confiscate a practitioner's passport before Christmas.
Ms. Qi Luyi is a Chinese student studying Economics at the University of Tuebingen. She started practicing Falun Gong in 1998 when she was working in Dalian City. In June 2004, she married a German Falun Dafa practitioner, and therefore needed to change her surname of Qi to her husband's surname. Later on, the foreign management office told her that she should go to the Chinese Embassy to make the same name change on her passport.
A consul took her to a meeting room and asked her questions, such as whether Qi practiced Falun Gong in China, whether she was still practicing Falun Gong, whether she had joined any group activities. He also wanted to know who joined these activities. Then he said that he needed to consult his superior about Ms. Qi's passport.
This kind of trivial thing, a name change, could be done by mail. However, Ms. Qi never got her passport back, even though she made a personal trip to the Chinese Embassy.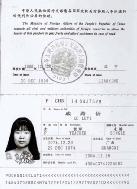 Ms. Qi Luyi was holding a valid passport. Changing her surname after her marriage is the obligation of Chinese Embassy. However the Chinese Embassy not only failed to perform its duty, but confiscated her passport. It's an illegal act, even for a one hour or one day confiscation. Many German people who heard the story expressed their strong dissatisfaction. They commented that the Chinese Embassy behaved like hooligans.
A Falun Gong practitioner tried to attend his mother's funeral in China, but the Chinese Consulate in New Zealand refuses to issue him a visa.
Mr. Cai Quanyun is a New Zealand citizen. On September 3, 2002, his family in China informed him that his mother had passed away. He went to the Chinese Consulate in Auckland to apply for a visa. The consuls gave him a hard time and made numerous troubles for him. In the end, Mr. Cai was unable to return to China to attend his mother's funeral.
On September 10, Mr. Cai went to the Chinese Consulate to apply for a visa. The Consulate gave him a receipt and told him to come back to pick up his visa approval on September 17. The receipt number was 454505.
Unexpectedly, when he returned to pick it up, the clerk gave him a hard time. First, the clerk told him that he had provided them with incomplete information, when in actuality he had explicitly followed their instructions and filled out all the information they requested on the application form. Next, they wanted him to indicate in writing whether he practiced Falun Gong or not. They then gave Mr. Cai a slip and sent him home to wait for further notification.
Later, the Chinese consulate procrastinated and told Mr. Cai to wait each time he went personally to the consulate to follow up his visa application. Mr. Cai also tried to call the consulate several times, but all he got each time was an answering machine message.
In the meantime, the Chinese Consulate in Auckland notified China of the personal information Mr. Cai provided in his visa application. As a result, Mr. Cai's family members and relatives in China were interrogated by Chinese police. Mr. Cai told others, "On the evening of October 25, my family members called me and told me that police in Shanghai had already been to their home to investigate whether they also practice Falun Gong."
Mr. Cai said, "My mother's funeral was scheduled for October 6, which I indicated clearly on my visa application. As of October 4, the Auckland Consulate had refused to grant me a visa and had not returned my passport to me. Because of this, I am unable to bid my last farewell to my mother. I've been practicing Falun Gong for over two years. Since I began practicing I easily broke a ten-year smoking habit. I get along harmoniously with my wife and my son, and I treat others with kindness."
He could not understand why the Chinese Consulate disregards people's basic rights and makes trouble for them. This made it impossible for him to attend his mother's funeral in China to fulfill the ethical duty of a son, according to Chinese tradition.
Let us ask those who deprive Falun Gong practitioners of their basic rights of having a happy family. Who is the cause for the broken families? The above vivid cases and tragic stories of individual Falun Gong practitioners bear witness to the darkest period of human history.
When countless families are torn apart in China, when those who are indirect victims of the persecution are numbered in hundreds of millions, when there are unjust, wronged people all over the country, shouldn't we stand up to stop the state terrorism from the CCP's Jiang regime and the despotism from the CCP? Shouldn't those murderers who have their hands stained with the blood of kind-hearted Falun Gong practitioners be brought to justice?
Every one of us must take responsibility to bring an end to the persecution and bring the perpetrators to justice, so as to write a future page in history with our own actions.
———————————————————————————
Why Jiang Zemin and CCP Persecute Falun Gong?
[VIDEO] Why Jiang Zemin and CCP Persecute Falun Gong?