(Minghui.org) Practitioners in Bulgaria were invited to introduce Falun Gong on a popular daytime TV show earlier this month. The program was broadcast on Sunday afternoon, June 10, 2012, on the highly rated, state-owned channel, Bulgarian National Television.
Practitioners were the first guests of the 2-hour show, which is known for presenting different perspectives and stimulating intellectual discussions about ordinary and extraordinary facets of people's lives.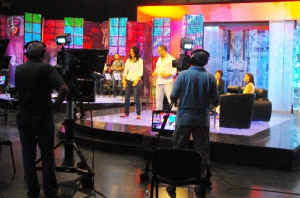 A practitioner (female, center) demonstrates the Falun Gong exercises on Bulgarian National Television, while the TV show's band members follow the movements
Practitioners discussed the benefits of practicing Falun Gong, demonstrated the five sets of exercises, and clarified the facts about the ongoing persecution of Falun Gong practitioners by the communist regime in China.
As Bulgaria was ruled by a communist regime from 1944 to 1989, many of its citizens have first-hand experience of being victimized by a political dictatorship that promotes atheism and uses violence to suppress human rights, freedom of thought and spiritual belief.
Members of the show's live band and their maestro, a famous Bulgarian pianist and composer, tried to learn the five meditative Falun Gong exercises on the spot, as one of the practitioners demonstrated the movements at the end of the show.
———————————————————————————
Why Jiang Zemin and CCP Persecute Falun Gong?
[VIDEO] Why Jiang Zemin and CCP Persecute Falun Gong?