July 25, 2012 | By Zhang Yun in Toronto, Canada
(Minghui.org) Falun Gong practitioners in Toronto and supporters of Falun Gong gathered in Don Valley Chinatown East in Toronto on July 21, 2012 to hold a march commemorating the 13th year of peaceful resistance to the persecution of the practice by the Chinese Communist Party (CCP). Their goal was to call on more people of the world to help stop the CCP's persecution. The long procession marched through Chinatown East, touching the hearts of spectators along the route.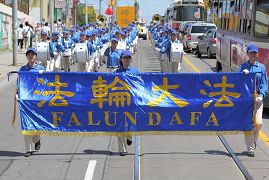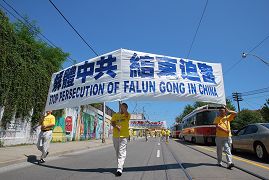 A long procession marches through Chinatown East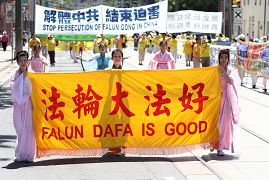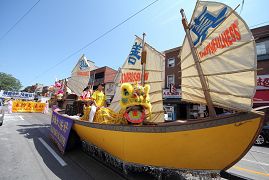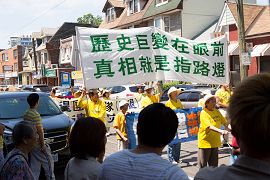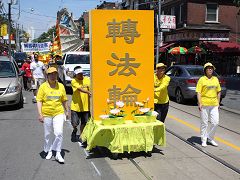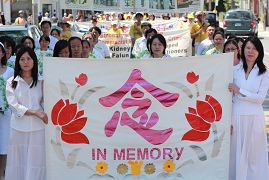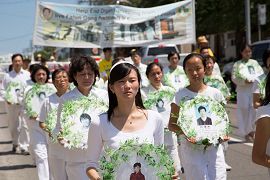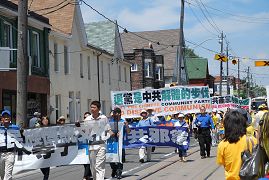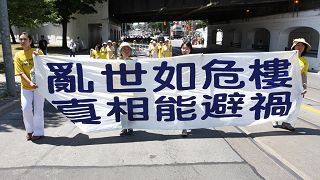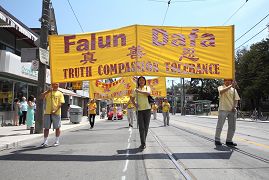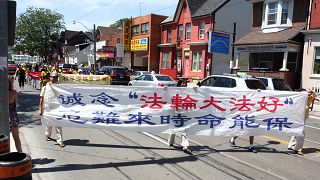 The Divine Land Marching Band took the lead. Right behind the band were a huge model of the book

Zhuan Falun

, a Fa boat float, celestial maidens, and sections dedicated to "Falun Dafa Is Good" and the "Peaceful Resistance to the Persecution". Practitioners held banners bearing explicit messages to call on more kind-hearted people to become aware of the truth of Falun Gong, work together to stop the CCP's brutal persecution, and make a moral choice for their future.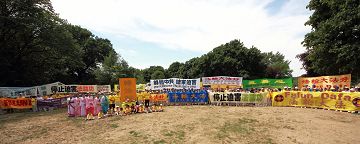 Hundreds of practitioners and their supporters gathered in Toronto to mark the 13 years of peaceful resistance to the CCP's persecution
Elderly Chinese Man from Hong Kong: 13-Year-Long Persecution—It's Too Cruel
Mr. Zhao, who immigrated to Toronto from Hong Kong in 1973, said with emotion, "I know this group of people is kind and follows the rules. I've often met them in Chinatown, they cleaned up their tables after dining at a restaurant. What they do is nothing other than doing their exercises and meditating. They do not harm others, but instead tell others about the benefits of Falun Gong. Why put them in prison to torture them, and even go so far as to harvest their organs? It has been 13 years, and it's too cruel. It should stop!"
Mr. Chen, owner of a decoration company, fled overseas after the June 4 massacre in 1989. This was the first time he saw such a spectacular Falun Gong march. He said, "I'm very happy for them, the CCP has lost the support of the people for persecuting kind people. They [Falun Gong practitioners] have persisted for 13 years. Remarkable! I believe they will prevail."
The World Needs Truthfulness-Compassion-Forbearance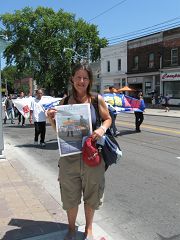 Spectator Vivian said, "I especially like the theme of Truthfulness-Compassion-Forbearance that they express. The world needs it! "
Spectator Vivian, carrying a cello, watched attentively the entire parade procession. She said, "I just moved here and am seeing such an exhilarating march. I'll pray for them, I hope they can enjoy freedom to practice anywhere. They do not harm anybody, why have they been persecuted for so long and so cruelly? I'll help them make their voice heard: Stop persecuting Falun Gong!"
Western spectator: I Want to Join Them in the March
Pat said, "I'm thinking that this group suffers such serious persecution, they must be very powerful and righteous, so the CCP is scared. I've learned some information online, and I feel nobody can persecute people of faith. The Communist Party can do such a thing as harvesting organs from living people, it is really extremely horrible. I want to join them in the procession and appeal together with them: Stop the persecution immediately!"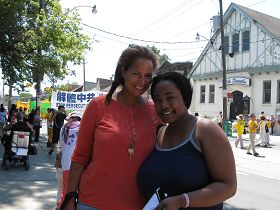 Christina said, "I'm sad that such a good group of people is persecuted in China. I'll give my best wishes for them. I believe their wishes will come true."
New Practitioner: Persecution Lasts 13 Years, I Return to Dafa Again
Twenty-three-year-old Cai Siyu came to Toronto from China in February 2012. He said, "My grandma began practicing Falun Gong in 1994, and I joined her when I was 5 years old. My grandma was arrested one month after the persecution started on July 20, 1999. No one cultivated with me. Then I was separated from my grandma after she came to Canada to visit her relatives in 2000 and remained here. I've reunited with my grandma this year, and am returning to cultivation. I've delayed for 13 years. Fortunately, I still have a chance to cultivate again. So I came today to take part in this activity, together with practitioners overseas. We call for an immediate end to the persecution, so that more people will obtain the Fa."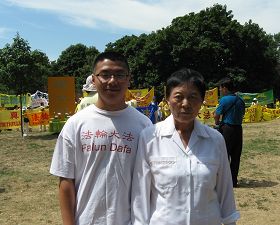 Overseas Practitioner: Let the World Know the Brutality of the Persecution
Ms. Wu from Tianjin managed to come abroad in 2001 when the persecution was at its worst, and this is the 11th year that she has participated in activities calling for an end to the persecution. She said, "Telling the truth has been forbidden in China. Practitioners around me in China have been arrested and detained for speaking with people about Falun Gong. I'm now in an unrestrained environment. What they can't say [in China], I'll continue to appeal for them, and let the people of the world become aware of the brutality of the persecution."
Practitioner Who Suffered Persecution in China Shares with Practitioners in China the Messages of Support from People Overseas
Mr. Wang came to Toronto from China 2 months ago. He began practicing Falun Gong in 1998, and was arrested in 2001 for appealing for Falun Gong in Beijing. He was sent to a detention center and then a brainwashing center. During the detention, he was ruthlessly beaten. He was forced to watch movies smearing Falun Gong, and forced to do hard labor.
Seeing so many people support Falun Gong practitioners' efforts to raise awareness about the persecution, Mr. Wang was deeply moved, and said, "I'm lucky enough to have a chance to come abroad. I'll send this message to practitioners in China," said he.
Practitioner from the Caribbean: Call for Help to Stop the Persecution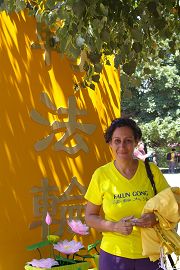 Ms. Miriam Chaulet from Guadeloupe
Ms. Chaulet from Guadeloupe happened to see a Falun Gong flyer on a table of an office in a company one day in 2002. She was attracted by the picture of a person doing sitting meditation on the flyer. Ms. Chaulet began smoking when she was 15 years old, and failed to quit after many attempts. However, "I quit smoking and drinking when I was reading Zhuan Falun," she said. "I know if I don't abandon those bad habits, I can't continue practicing Falun Gong, because I need to cleanse myself first." Ms. Chaulet's husband saw the positive changes in her after she practiced Falun Gong for 3 weeks. He joined her in the practice, and he, too, quit smoking and drinking. Three years after the practice, Ms. Chaulet gave birth to their lovely baby when she was 40.
Ms. Chaulet learned about the brutality of the CCP's persecution while translating Falun Gong informational materials from English to French. She said she has continuously let local people know the benefits of Falun Gong and called on them to help stop the persecution.
Falun Gong Supporter: More and More People Support Falun Gong
Mr. Zhang Xiangyang, who has been protesting the CCP local government's forcibly dismantling his ancestral home, also came to participate in the march. He was deeply impressed by the scale and good order of the march. "Falun Gong practitioners' march is on a magnificent scale and in good order, because they've benefited from practicing Falun Gong. They wanted to come to participate from the bottom of their heart," said Mr. Zhang, "Look at those rallies and parades pushed by the CCP; they have to entice people to join." He continued, "More and more people have become unaffected by the CCP's lure of 50 yuan and a free tour." He concluded, saying, "With the wide spreading of the truth of Falun Gong, more and more people recognize and support Falun Gong."
Why Jiang Zemin and CCP Persecute Falun Gong?
[VIDEO] Why Jiang Zemin and CCP Persecute Falun Gong?