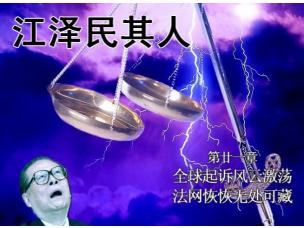 On April 14th, Argentine Criminal High Court made a decision.
They decided to allow the Federal Criminal Court to resume
the trial of former Chinese Communist Party (CCP) leader
Jiang Zemin and former security chief Luo Gan.
Both committed crimes of genocide and crimes
against humanity on Falun Gong practitioners.
Jiang and Luo launched suppression on Falun Gong.
In 2005, the two were sued in Argentina.
In December 2009, Argentine Federal Judge Octavio Araoz
de Lamadrid issued international arrest warrants for Jiang and
Luo "over crimes of genocide and against humanity".
Judge Lamadrid ordered local Interpol to carry out
the arrest when Jiang and Luo visited abroad.
It was planned to extradite the two to Argentine for trial.
The arrest warrants made the CCP panic.
They put pressure on Argentine courts and
other countries via Argentine Embassy in China.
Then Madrid judge was forcibly made to resign.
A new judge immediately cancelled
the arrest warrants on the first day of his post.
The Argentine Falun Dafa Association has appealed twice.
They stated that the case was changed
because of the CCP's political pressure.
Many years have passed; finally, they won the appeal.
President of Argentine Falun Dafa Association said that they
expected the court to resume the arrest warrants pretty quickly.