Authorities fear family members leaving their home during the 18th Party Congress
Mr. Li Hongkui. (Minghui.com)
The family of Li Hongkui, a Falun Gong practitioner who was tortured to death two months ago in Daqing Prison in Harbin City, the capital of the northeastern province of Heilongjiang, has been frequently harassed by the authorities recently. Apparently, the authorities were afraid that the family would appeal in Beijing during the Chinese regime's 18th Party Congress, and subsequently sent people to their home, to beat repeatedly on the door and threaten to detain Li's wife and son if they were to leave.
Bai Qun, Li Hongkui's wife,

explained to Sound of Hope

(SOH) Radio, "The Street Office Director came to our home on the afternoon of Nov. 2. He said that the 610 Office had sent him there. He asked if we had any difficulties in life and if he could help. I said we are not registered permanent residents here and we are not under your jurisdiction. You are also unable take care of our business." The 610 Office is Communist Party organ formed for the purpose of "eradicating" the spiritual practice of Falun Gong. It has authority over all Party and state offices with regard to persecuting Falun Gong.
Mrs. Li, being seriously ill because of a work injury, has been neglected for a long time. She had expected her husband to take care of the family after being released from prison.
"I've been sick for so many years. My company ignores me and doesn't compensate me for the expenses of medication. I expected my husband to take care of me after coming back, but he was killed about a month before he was due to be released," said Mrs. Li.
Mr. Li was supposed to be released on Sept. 21 following a 7-year-long illegal imprisonment, but his family received the news of his death on Aug. 28.
At Daqing Hospital, Li's family saw that his head was wrapped with thick gauze. A 3cm-long (about 1.2 inches) laceration behind Mr. Li's right ear suggested an attempt to tear off his ear. His right ankle was shackled to the bed railing. (Detail Report –http://en.minghui.org/html/articles/2012/9/15/135430p.html)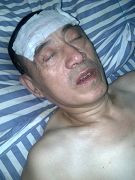 Mr. Li Hongkui in a coma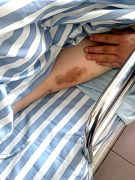 Mr. Li Hongkui had bruises on his left calf
Mr. Li's family also noticed a 3cm-long crack on top of Mr. Li's right ear (about 1.2 inches), as if his ear had been torn apart. The prison guards in the room looked apprehensive when this issue was brought up and did not know what to say.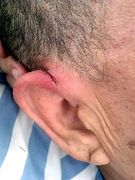 Mr. Li Hongkui had a 3cm-long crack on top of his right ear
Mr. Li's family was suspicious of Li's sudden death. They wrote letters to Daqing Prison, Daqing City government, and Daqing Political and Legal Affairs Committee, on September 7, presenting 14 inconsistencies with regards to Mr. Li's death and asked Daqing Prison to give a written reply. There was no response.
Mrs. Li said, "The day after the people [of the Street Office] left, Daqing Bureau of Justice called us. They began harassing us every day. People of the Street Office knocked on our door every day—once, twice, three times."
Mr. Li's son, Li Xuan, told SOH, "When I went home the night of Nov. 10, I saw a person from my mom's company, Xu Gang, standing in our doorway. He asked me to tell my mom that whenever she steps out the door, she will be detained. They told me yesterday that if I went out, they would detain me. They mean to watch us until the conclusion of the 18th Party Congress."
The mother and son have lived on nothing for a long time. Now the son dares not to go out of the house. However, they both are determined to find justice for Mr. Li.
Mr. Li Hongkui was an outstanding engineer at the Harbin Post Office, and for the 14 years between 1978 and 1991, he received the Advanced Worker Award. After the Chinese Communist Party (CCP) launched the persecution of Falun Gong in July 1999, Li Hongkui was arrested three times and sentenced to prison twice.

According to the Minghui Website

, he endured inhumane torture during the 10 years he spent in prison.
On the night of Aug. 13, just about 30 days before his prison term was to end, his family was notified that he was sent to Daqing No. 4 Hospital for surgery because of a brain hemorrhage. Mr. Li passed away on Aug 28, 2012.
———————————————————————————
Why Jiang Zemin and CCP Persecute Falun Gong?
[VIDEO] Why Jiang Zemin and CCP Persecute Falun Gong?